Book Talk: God's Property: Islam, Charity, and the Modern State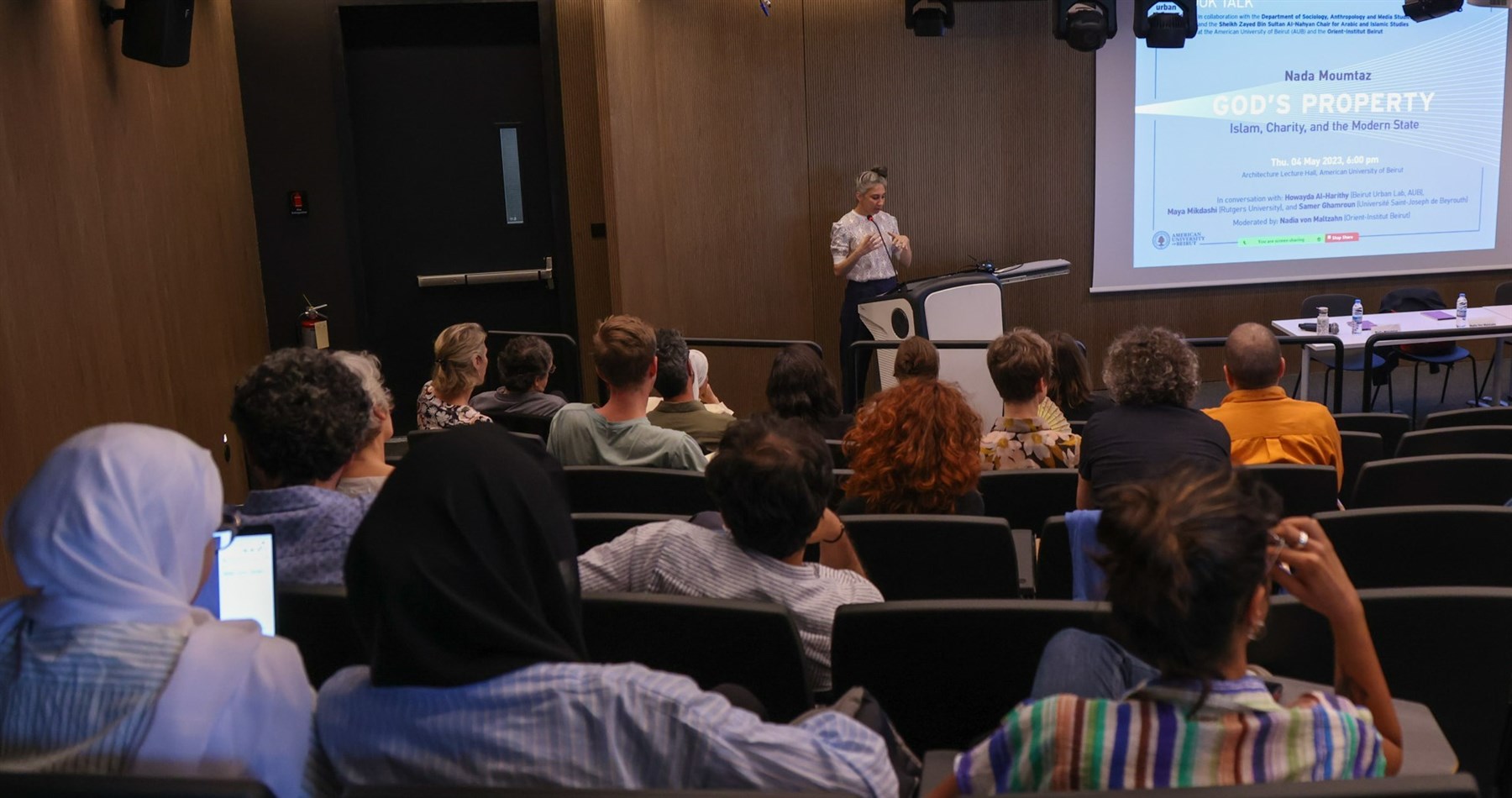 On May 4, 2023 the Beirut Urban Lab (BUL), in collaboration with the Department of Sociology, Anthropology and Media Studies (SOAM) and the Sheikh Zayed Bin Sultan Al-Nahyan Chair for Arabic and Islamic Studies at the American University of Beirut, and the Orient-Institut Beirut held a discussion of Nada Moumtaz's first book titled: God's Property: Islam, Charity, and the Modern State (University of California Press, 2021).

The discussion was introduced and moderated by Nadia von Maltzahn, Research Associate at the Orient-Institut Beirut. Moumtaz then presented her book which investigates the concept of the waqf, its legal and social meaning and history, focusing on contemporary Beirut and tracing the cumulative effects of multiple legal regimes (Lebanese – French – Ottoman). The book discussion included Howayda Al-Harithy, Professor of Architecture and Urban Design, Research Lead at Beirut Urban Lab, Maya Mikdashi, Associate Professor in the Department of Women's, Gender, and Sexuality Studies at Rutgers University, and Samer Ghamroun, Assistant Professor at the Faculty of Law and Political Science at Saint Joseph University of Beirut.
About the Book
Up to the twentieth century, Islamic charitable endowments provided the material foundation of the Muslim world. In Lebanon, with the fall of the Ottoman Empire and the imposition of French colonial rule, many of these endowments reverted to private property. In contemporary Beirut, however, charitable endowments have resurged as mosques, Islamic centers, and nonprofit organizations. A historical anthropology in dialogue with Islamic law,
God's Property
demonstrates how these endowments have been drawn into secular logics—no longer the property of God but of the Muslim community—and shaped by the modern state and modern understandings of charity and property. Although these transformations have produced new kinds of loyalties and new ways of being in society, Nada Moumtaz's ethnography reveals the furtive persistence of endowment practices that perpetuate older ways of thinking of one's self and one's responsibilities toward family and state.
Watch the full video of the Book Talk
here
.