Urban professionals endorse the public square project in Mar-Mikhael/Gemmayzeh, countering misinformation
In defense of public interest, 270 Professionals in urban, architecture, landscape, and transport endorse today the public square project in Mar-Mikhael/Gemmayzeh, countering misinformation about the project. The petition was published in French and Arabic by Lebanese newspapers L'Orient-Le Jour and An-Nahar.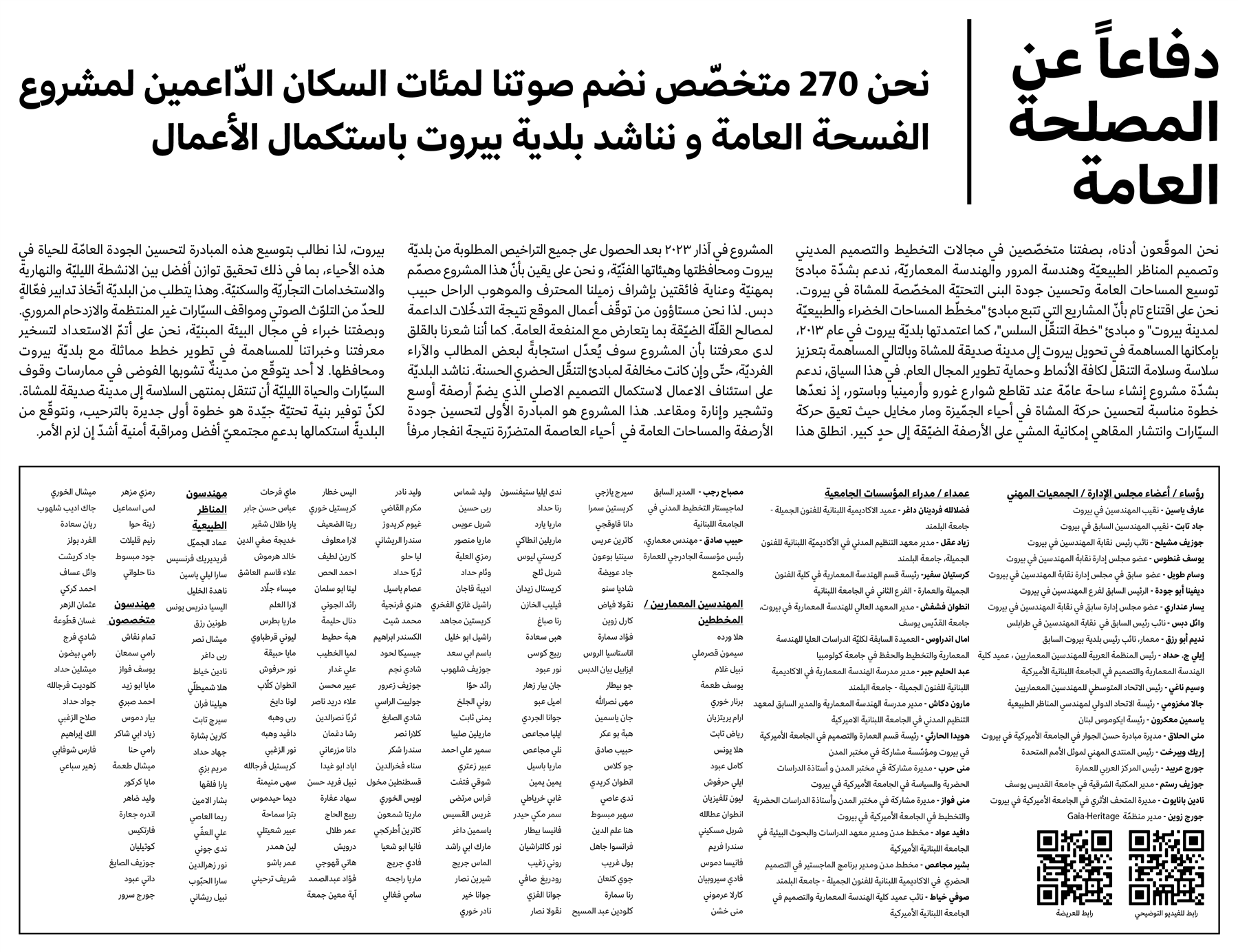 The petition as it appeared in An-Nahar newspaper on Monday July 17, 2023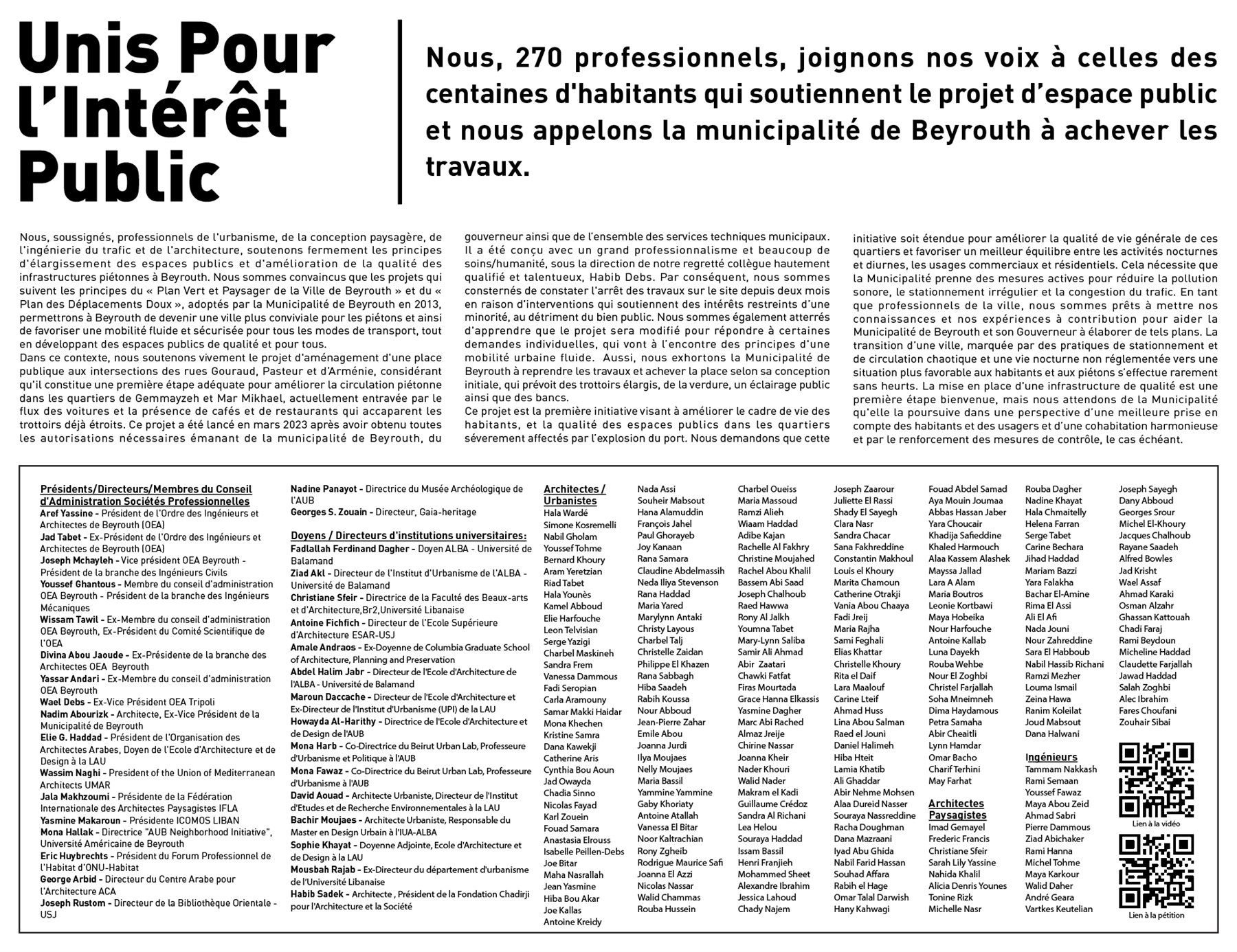 The petition as it appeared in L'Orient-Le Jour newspaper on Monday July 17, 2023
Petition to Support the Public Square Project at the intersections of rue Gouraud, Armenia, and Pasteur in Gemmayze/Mar Mikhael
Attn: Judge Marwan Abboud Muhafiz of the City of Beirut,
We, the undersigned professionals in urban planning and design, landscape design, traffic engineering, and architecture, stand in strong support of the principles of enlarging public space and improving the quality of pedestrian infrastructures in Beirut. We firmly believe that projects that follow the principles of the Plan Vert and the Plan de Déplacements Doux, as adopted by the Municipality of Beirut in 2013, are capable of moving Beirut towards a more pedestrian-friendly city and therefore aligning its mobility with the best urban practices globally.
In this context, we strongly support the project of introducing a public square at the intersections of rue Gouraud, Armenia, and Pasteur, and find it an adequate first step to improve walkability
in the Gemmayze and Mar Mikhael neighborhoods where cars and cafés widely obstruct narrow sidewalks. Launched in March 2023 after securing all the required authorizations from the Municipality of Beirut, its Muhafiz, and all technical services, we know this project to have been designed with utmost professionalism and care under the leadership of our highly qualified late colleague, Habib Debs. As such, we are dismayed to see site works halted for two months through interventions that support the narrow interests of a handful of private interests, and against the public good.
We are appalled to learn that the project is being modified to respond to individual perspectives and demands, even when the latter violate the principles of good urban mobility. We urge the Municipality to resume works towards completing the original design, with its wider sidewalks, greenery, lighting, and benches.
This project is the first initiative to improve the quality of sidewalks and public spaces in these neighborhoods. We demand that this initiative be expanded to improve the general quality of life in these neighborhoods, including a better balance between night and day activities, commercial and residential uses. This requires the Municipality to take active measures to reduce noise pollution, irregular parking, and traffic congestion. As professionals of the built environment, we stand ready to place our knowledge and experiences to help develop such plans with the Municipality of Beirut and its Governor. Nobody expects a city marred by chaotic parking practices and unregulated nightlife to shift seamlessly to a pedestrian-friendly condition. The provision of a good infrastructure is a welcome first step, we expect the municipality to complement it with better community support and stronger policing, when and if needed.
You can support this public space project by signing the petition
here
.