Liza Weinstein: Illegal by Degree: Legal Exclusion and Crisis in Mumbai's Slum Settlements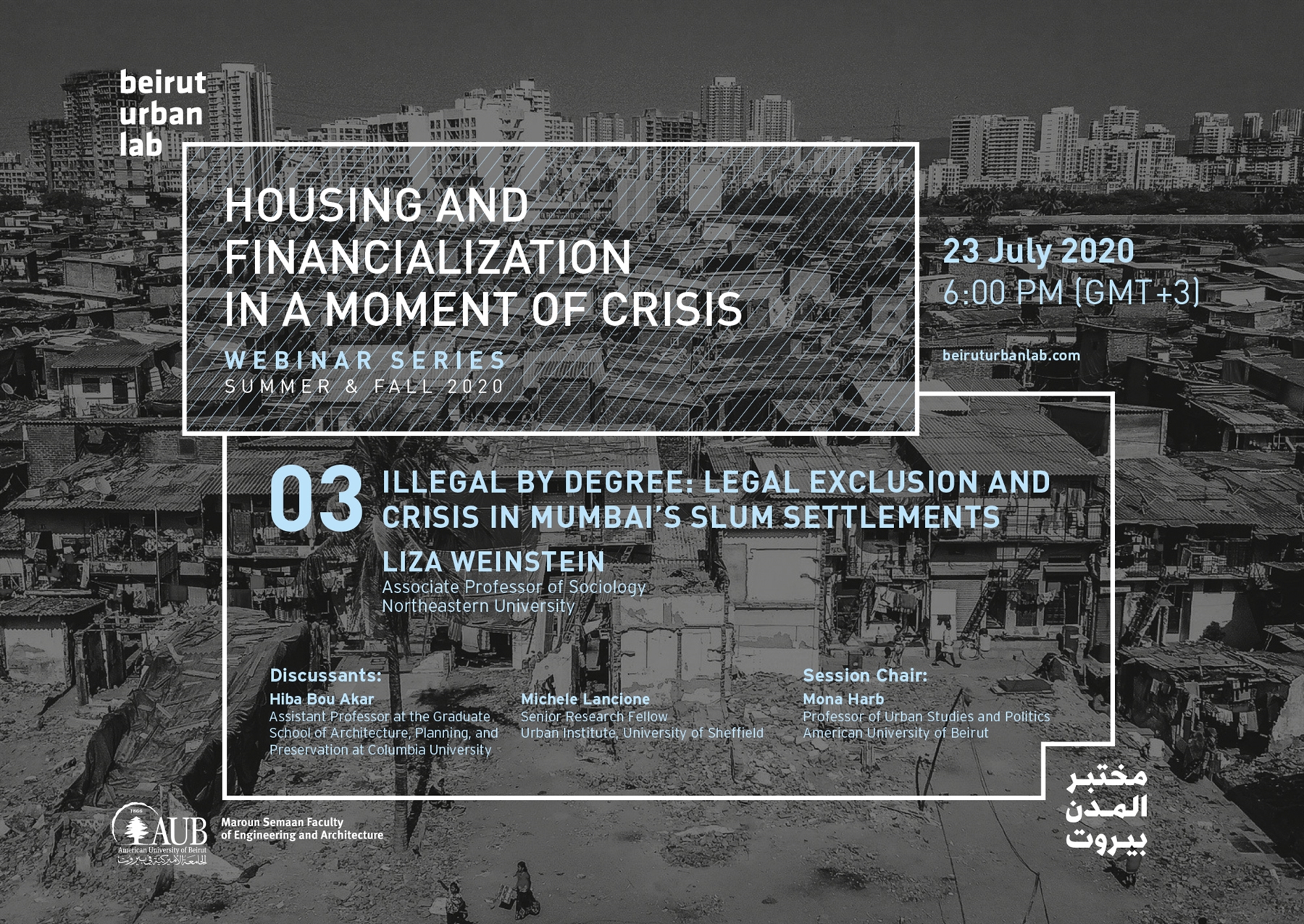 Thursday, July 23, 2020 @6pm Beirut (GMT +3)
Register here!

Illegal by Degree: Legal Exclusion and Crisis in Mumbai's Slum Settlements
Liza Weinstein, Associate Professor of Sociology at Northeastern University

Discussants:
Hiba Bou Akar, Assistant Professor at the Graduate School of Architecture, Planning, and Preservation at Columbia University.
Michele Lancione, Senior Research Fellow, Urban Institute, University of Sheffield

Session Chair:
Mona Harb, Professor of Urban Studies and Politics

Bios
Liza Weinstein is an Associate Professor of Sociology and the Chair of the Department of Sociology and Anthropology at Northeastern University in Boston. An expert on the politics of housing and urban development in India, she is the author of The Durable Slum: Dharavi and the Right to Stay Put in Globalizing Mumbai(University of Minnesota Press, 2014) and is currently completing a comparative study of evictions and anti-eviction activism across urban India. Her work has been published in Politics and Society, City and Community, and International Sociology, and numerous edited collections. She is also the editor of the Interventions section of the International Journal of Urban and Regional Research and is a member of the Displacement Research and Action Network.

Hiba Bou Akar is an Assistant Professor at the Graduate School of Architecture, Planning, and Preservation at Columbia University. Her recent book, "For the War Yet to Come: Planning Beirut's Frontiers" (2018), examines how Beirut's post-civil war peripheries have been transformed through multiple planning exercises into contested frontiers that are mired in new forms of conflict. Her first co-edited book, "Narrating Beirut from its Borderlines" (2011), incorporated ethnographic and archival research with art installations, architecture, graphic design, and photography to explore Beirut's segregated geographies. She is currently leading the Post-Conflict Cities Lab at Columbia University. Bou Akar received her PhD. in City and Regional Planning from the University of California at Berkeley. She holds a Bachelor of Architecture from AUB and a Master's in Urban Studies and Planning from MIT.

Michele Lancione is an urban ethnographer and activist interested in issues of marginality, diversity, and radical politics. His most recent writing has focused on homelessness, racialized displacement and underground life in Bucharest, Romania, where he also directed a collaborative documentary around forced evictions and housing resistance (www.ainceputploaia.com). Michele is member of the Common Front for the Right to Housing (FCDL), and corecipient of two Antipode Awards ('Scholar-Activist' in 2018, with FCDL; 'International Workshop' in 2019, with RHJ). He is also one of the founders and Editors of the open-source Radical Housing Journal (RHJ), an Editor of City, and Corresponding Editor for Europe at IJURR. He is based at the Urban Institute, University of Sheffield (UK), where he is commencing work on a 5-year European Research Council funded program on 'Radical Housing'. You can get in touch @michelelancione

Mona Harb is Professor of Urban Studies and Politics, and co-director of the Beirut Urban Lab at the American University of Beirut. She is the author of "Le Hezbollah à Beyrouth (1985-2005): de la banlieue à la ville" (Karthala-IFPO, 2010), co-author of "Leisurely Islam: Negotiating Geography and Morality in Shi'ite South Beirut" (Princeton University Press, 2013, with L. Deeb,), co-editor of "Local Governments and Public Goods: Assessing Decentralization in the Arab World" (LCPS, 2015, with S. Atallah), and co-editor of "Refugees as City-Makers" (AUB, 2018, with M. Fawaz, A. Gharbieh and D. Salamé), in addition to numerous journal articles, book chapters, and other publications. Her ongoing research investigates urban vacancies and public life, local governance and displacement, and urban activism and oppositional politics. She serves on the editorial boards of MELG, IJMES, IJURR, and Environment and Planning C, and is a trustee of the Arab Council for the Social Sciences. She founded the Cities Page on Jadaliyya e-zine, where she is also an editor.
This webinar is the third of a series titled Housing and Financialization in Times of Crisis, that presents public interventions by scholars and activists researching the impacts of the compounded effects of financialization and overlapping crises on the right to housing at the local, national, and global levels.
The webinar series is an adaptation of AUB's City Debates 2020 conference into an online lecture and discussion series. The shift online was originally triggered by the impossibility of travel and in-person meetings imposed by the COVID19 pandemic globally. It however offers us the opportunity to engage a wider audience that we hope will participate in our discussions. The series will run as of July 2020 and into Fall 2020. We are grateful to colleagues, particularly the guests of City Debates 2020 for the generosity and flexibility they have demonstrated in accommodating this new format.
Follow the Lab on Twitter, or City Debates on other social media for announcements of upcoming sessions.