Why Socio-Spatial Practices Matter to Urban Recovery
Dana Mazraani, Luna Dayekh, Mona Harb - 02.12.2020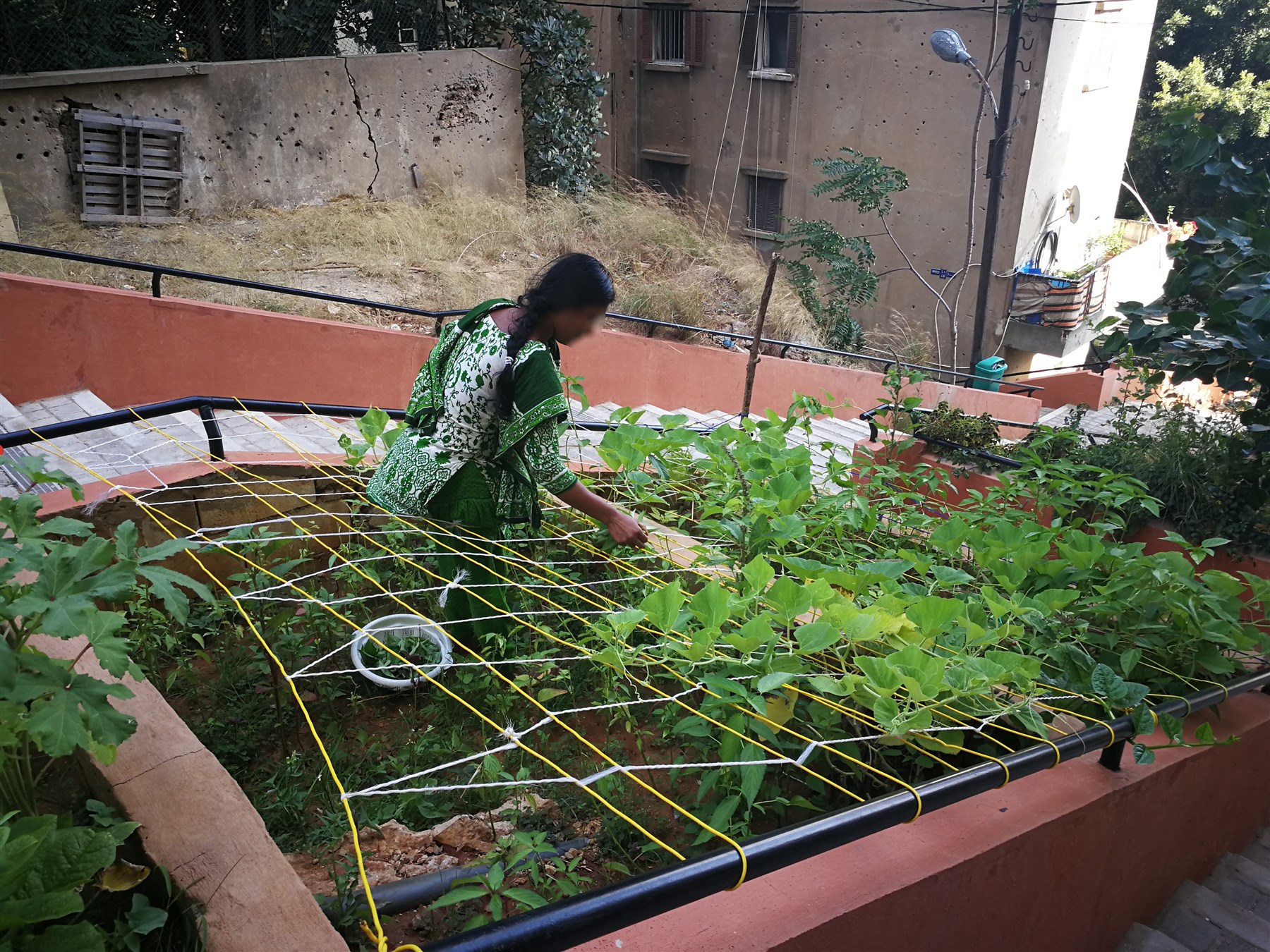 A migrant worker picks okra from the planters along the Burjawi staircase in Beirut (Photo: Dana Mazraani, 2018)
Socio-spatial practices matter as sites of sociability and social interaction, where children play safely, the elderly socialize, women meet and converse, migrants, refugees and other vulnerable groups hang out and forge communities. They foster what
some authors
call "city-zenship," a sense of inclusive urban belonging where "the right to the city [...] extends to all residents, regardless of origin, identity, or legality."
The blast on August 4, 2020, in the port area of Beirut devastated lives and livelihoods and disrupted vibrant socio-spatial practices that used to unfold in many shared spaces within neighborhoods by the port. While Beirut is a dense city with high levels of urbanization and scant open public spaces that are poorly designed and ill managed, the city still boasts a rich and vibrant public life, albeit one that is dwindling slowly. The capital's municipal territory includes 21 public parks and gardens, a seaside corniche, and a few publicly accessible coastal sites whose
total area
amounts to less than 1 sq.m. per resident.
However, most socio-spatial practices take place in less formal urban locations and are often marked by their own rhythms and temporalities. We can capture them in the early morning sunlight on a street in Geitawi. A jeweler walks out of his small shop, a metal tray between his fingers with two cups of hot coffee that he bought from the coffee vending shack. He sits on one of the two plastic chairs he placed on the sidewalk, waiting for his travel agent neighbor to come for a chat before the start of his work day. We catch them across the Burjawi staircase in Nasra, where men sit nonchalantly on their balconies overlooking the staircase, women congregate over afternoon coffee at the entrances of their buildings, and female migrant workers who live along the staircase pick the okra they have grown in the nearby built-in planters to make dinner (feature image). We notice them in the shade of a large, fifty-year old ficus tree in Mar Mikhael, where taxi drivers hang out and play backgammon in-between jobs.
Such socio-spatial practices are deeply rooted in the urban history of Beirut, experienced through streets, markets, and multiple public and private open spaces that are more or less hidden, including alleyways, historical staircases, building entrances, vacant lots, and other appropriated sites.
Socio-spatial practices matter as sites of sociability and social interaction, where children play safely, the elderly socialize, women meet and converse, migrants, refugees and other vulnerable groups hang out and forge communities. They foster what some authors call "city-zenship," a sense of inclusive urban belonging where "the right to the city [...] extends to all residents, regardless of origin, identity, or legality." But even though these example are often good indicators of a valuable public life, socio-spatial practices ought not be romanticized as they can incorporate several exclusions vis-a-vis women, migrants and refugees, especially in the context of patriarchal, heteronormative and discriminatory institutional systems as in Lebanon.