Negotiating Conflict in Lebanon: Bordering Practices in A Divided Beirut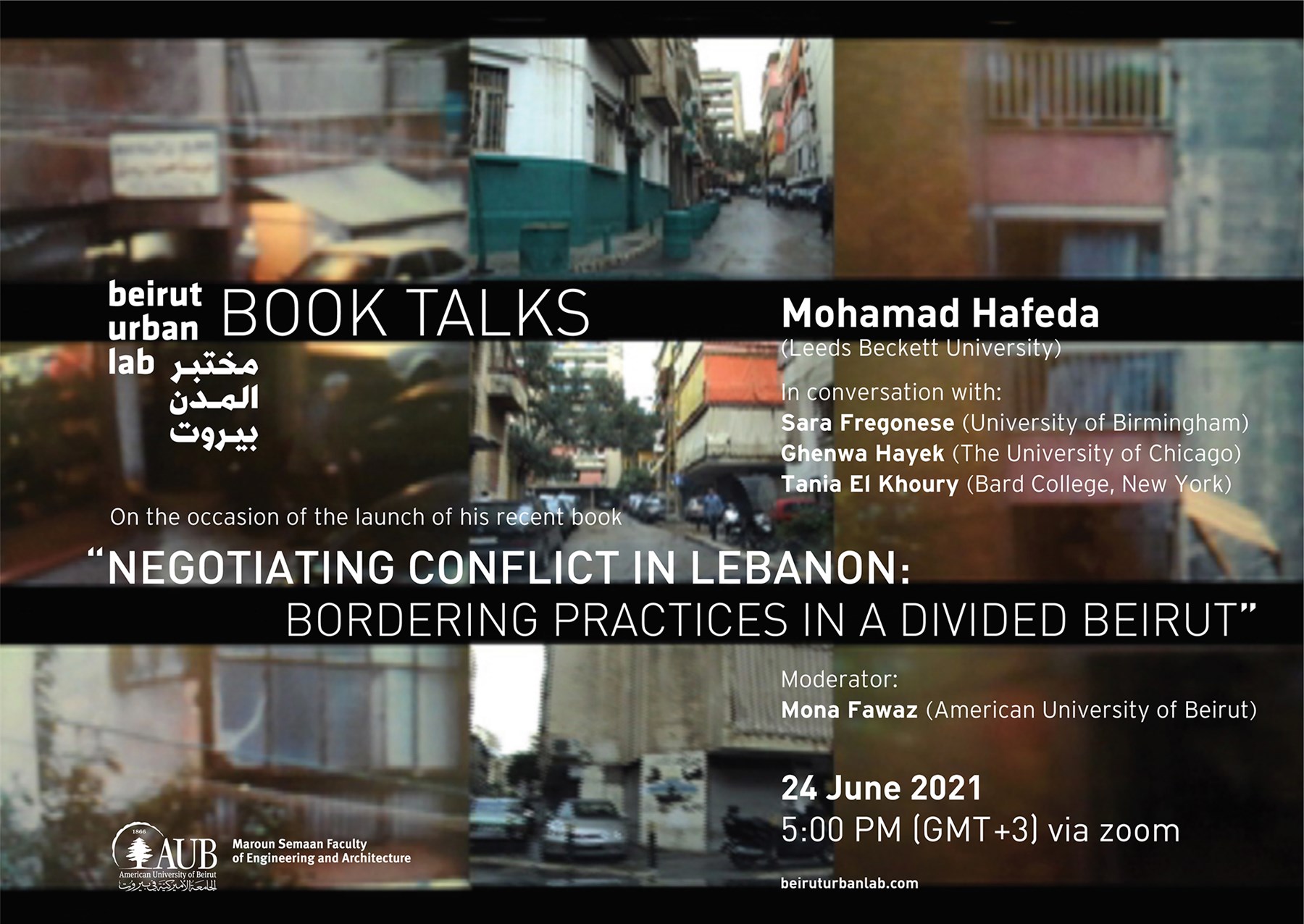 Join us for our first Book Talk
Thursday, June 24, 2021 @5pm Beirut (GMT +3)
Meeting Link: https://us02web.zoom.us/j/87960765941?pwd=T2xtMlhPbit2WlpvQy9FS1JuSEErdz09
Meeting ID: 879 6076 5941
Passcode: 238795
Negotiating Conflict in Lebanon: Bordering Practices in A Divided Beirut
Authored by Mohamad Hafeda


Discussants:
Sara Fregonese, Lecturer in Political Geography at the University of Birmingham (UK)
Ghenwa Hayek, Associate Professor of Modern Arabic Literature in the Department of Near Eastern Languages and Civilizations at the University of Chicago
Tania El Khoury, Director of the Center for Human Rights and The Arts at Bard College (New York)
Moderator:
Mona Fawaz, Professor of Urban Studies and Planning, AUB, Research Lead at Beirut Urban Lab
All are welcome!
Bios
Mohamad Hafeda is an artist, writer and academic based in London and Beirut. His work employs art and architecture practices as research methods to negotiate the politics of urban space, focusing on the issues of borders, refuge, displacement, representation and spatial rights. Through this, Hafeda engages with communities to produce counter representations and spatial alternatives that span urban interventions, media representations, art installations and writings. Hafeda's interdisciplinary, practice-led research across the fields of urban studies, art and tactical practices of resistance is presented in his most recent book,
Negotiating Conflict in Lebanon
(Bloomsbury, 2019) and his film
Sewing Borders
, commissioned by Ashkal Alwan for Video Works (2017). Through his art collective Febrik, Hafeda develops participatory art and research methods in a series of projects around the topic of 'play' and the social 'playgrounds', primarily in Palestinian refugee camps in the Middle East. Hafeda is currently a Reader in architecture at Leeds Beckett University, having previously taught design and architecture at Chelsea College of Arts, Westminster University, London Metropolitan University, American University of Beirut and Lebanese American University. He holds a PhD in Architectural Design from the Bartlett School of Architecture, University College London (2015), an MA in Design for the Environment from Chelsea College of Art and Design, University of the Arts London (2004), and a BA in Interior Architecture from the Fine Arts Institute, Lebanese University (2001). You can check his website
here
.
Sara Fregonese is Lecturer in political geography at the University of Birmingham (UK). Her research focus is on the relation between geopolitics, security and urban space. Between 2002 and 2020, her research empirical focus has been mainly on Lebanon. She is the author of
War and The City. Urban Geopolitics in Lebanon
(Bloomsbury 2019) and of
The Radicals' City. Urban environment, polarisation, cohesion
(Routledge 2016, with Ralf Brand). She is currently the Principal Investigator of the new ESRC/ANR/DFG-funded research project
Atmospheres of (counter-)terrorism in European cities
(2021-2023) which aims to explore the felt dimensions of contemporary terror threats and counterterrorism measures in the ordinary experience of urban space in Europe. Sara currently splits her time between the UK's West Midlands and Italy's Veneto regions.
Ghenwa Hayek is Associate Professor of Modern Arabic Literature in the Department of Near Eastern Languages and Civilizations at the University of Chicago. She is the author of
Beirut, Imagining the City: Space and Place in Lebanese Literature
(2014) and is currently working on a book project titled
'Carrying' Africa, Becoming Lebanese: Emigrant Anxieties in Lebanese Culture
.
Tania El Khoury is a live artist whose work focuses on audience interactivity and is concerned with the ethical and political potential of such encounters. She creates installations and performances in which the audience is an active collaborator. Tania's work has been translated to multiple languages and shown in 32 countries across 6 continents in spaces ranging from museums to cable cars. She is the recipient of a Soros Art Fellowship, the Bessies Outstanding Production Award, the International Live Art Prize, the Total Theatre Innovation Award, and the Arches Brick Award. Tania is the director of the OSUN
Center for Human Rights & the Arts
at Bard College in New York. She holds a PhD from Royal Holloway, University of London. Her research and publications focus on the political potential of audience interactivity. She is associated with
Forest Fringe
collective of artists in the UK and is a co-founder of
Dictaphone Group
in Lebanon, a research and performance collective aiming at questioning our relationship to the city, and redefining its public space.
Mona Fawaz is Professor in Urban Studies and Planning and the Coordinator of the graduate programs in Urban Planning, Policy and Design at the American University of Beirut. She is a co-founder and a research lead of the Beirut Urban Lab, a recently established research center that engages policymakers, activists, and researchers in Lebanon and the region on questions of urban inclusion and post-conflict recovery. Mona is the author of over 50 articles, reports, and book chapters investigating issues of housing, informality, property, law, and planning theory and pedagogy.