Launching an Urban Observatory Amidst a Painful and Slow Recovery
Today, we launch the Urban Observatory, a modest contribution of the Beirut Urban Lab that seeks to improve the coordination and visibility of the recovery process.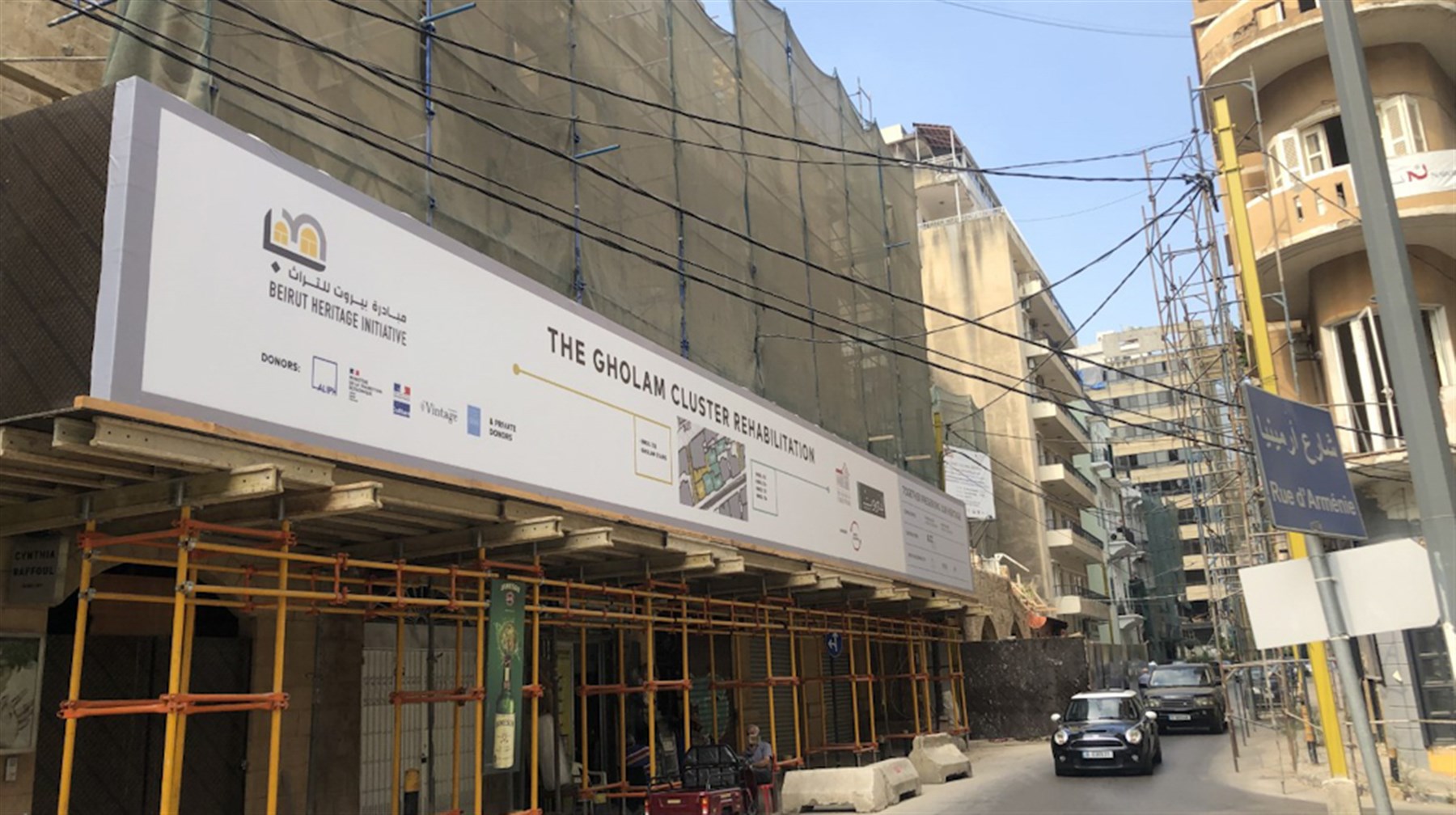 Post-blast reconstruction works by NGOs in Gemmayzeh/Mar Mikhael (Photo: Mona Harb, August 2021)
One year after the Beirut port blast, we remain in awe at the social mobilization that continues to surround the people in the neighborhoods affected by the explosion. Over 12 months, and amidst devastating, economic, political, and health crises, city-dwellers—organized or not, working side by side with a large array of local and international organizations, are still struggling to repair homes, businesses, schools and hospitals and restore the viability of their city. They are doing so in the quasi-absence of the state and its agencies that should have coordinated, planned, and funded recovery.

Furthermore, the national public committee that was tasked with recovery in September 2020 (according to Law 194/2020) never met properly and failed to set in place a recovery strategy. This damning absence has made it difficult to advance with repairs and recovery at the desirable pace. Worse, the delegation of repairs to non-profit organizations without a central coordination generates inequities and inconsistencies that sometimes drive wedges between communities. Thus, 365 days after, we estimate through the rapid surveys of the Beirut Urban Lab that less than one in four apartments in the areas affected by the blast is occupied, that one in two stores is closed, that almost all the 640 affected heritage buildings (OEA survey, September 2020) remain in need of partial or full repair, and that the port's destruction remains unaddressed.
Cities are made by people, and Beirut's people are deeply wounded. Today's cry for accountability remains the most important demand for a recovery process. As mothers, sisters, daughters, brothers and sons, we join wholeheartedly the cry of city dwellers demanding a just investigation and full accountability. As urban researchers and professionals of the built environment, we understand such justice as integral—in fact, antecedent, to a possible recovery. Many of the losses are irrecoverable. But, changing the course of how our city is governed, shifting the tides so that both political and economic frameworks are designed to favor a productive and inclusive city is imperative. Only a just governance process can secure this goal.
The challenges are daunting. As an urban lab, invested in advancing a viable and livable city, we remain committed to the need to imagine and the possibility of making a just city, designed for its people, by its people. Today, we launch the Urban Observatory. This modest contribution of the Beirut Urban Lab seeks to improve the coordination and visibility of the recovery process. Given the absence of a public custodian of this recovery, platforms of knowledge-sharing and exchange are critical. Such platforms do not replace the direly missing state. By improving access to information and allowing for data exchange, they nonetheless offer a critical ingredient in the possibility of coordination between various actors on the ground. We launch today the Beirut Urban Observatory with six components, a first installment that provides access to: early damage assessments, urban conditions in the pre-explosion city, a first reading of return to life, an overview of open spaces and community projects, and neighborhood-level socio-economic factors, and more. These are the starting elements of a longer term, ambitious project that will continue to feed knowledge through partnerships with the actors, organizations and associations directly involved in the post-disaster recovery.
We invite you today to
visit the Observatory
, share your thoughts and reach out to join the platform so that this collaborative base of information sharing is expanded. Together, we are able to co-produce more diverse and inclusive processes that can feed into the ongoing struggles for recovering social justice in our city.