Recovering Amidst Crises, Beirut's Port Blast One Year Later: A Two-panel Webinar
30.08.2021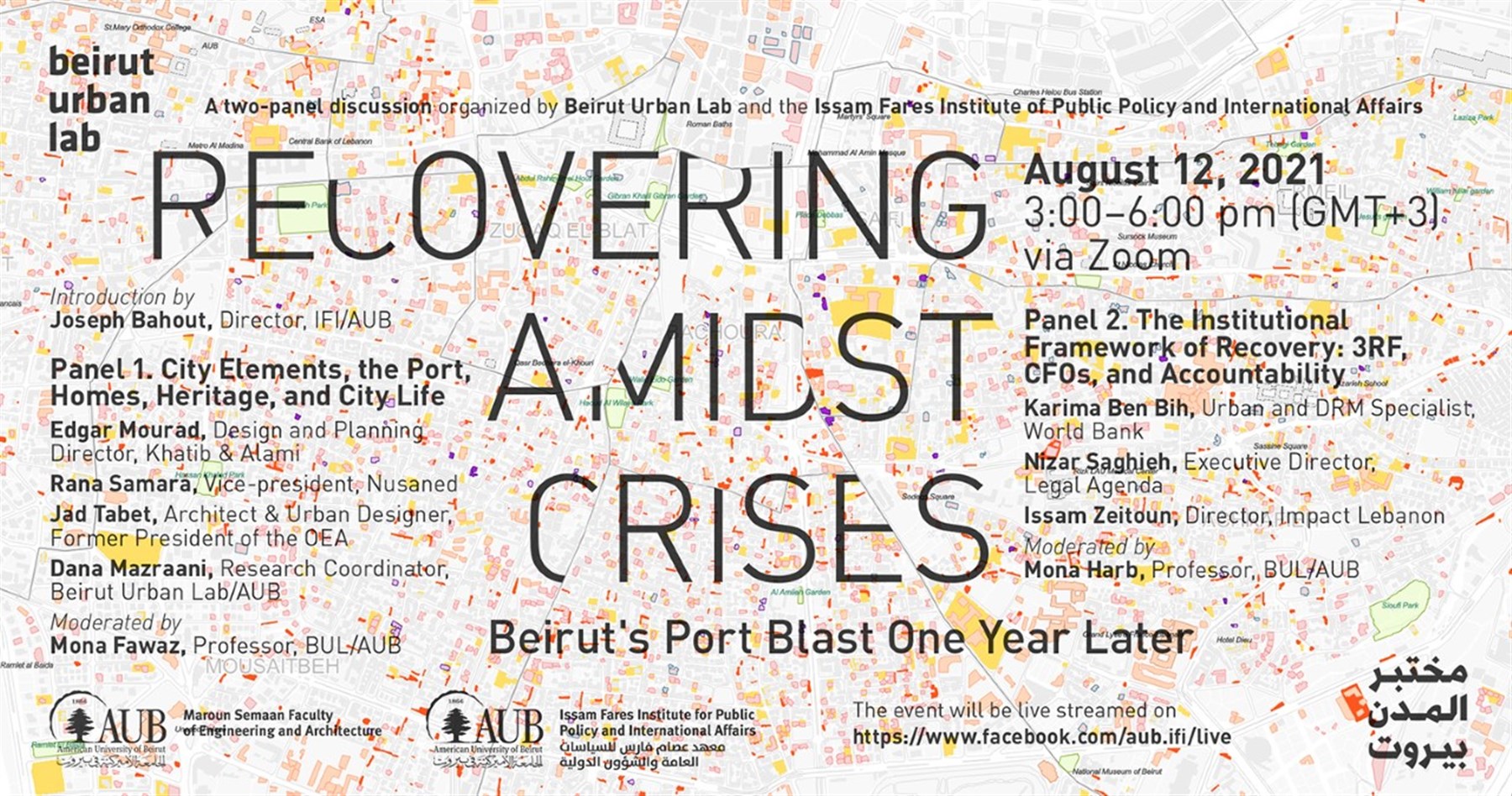 The Beirut Urban Lab at the American University of Beirut and the Issam Fares Institute for Public Policy and International Affairs (IFI) hosted jointly a webinar titled "Recovering Amidst Crises, Beirut's Port Blast One Year later" on August 12, 2021. The two-panel event took stock of the multiple efforts that have been deployed in the past year to initiate processes of repair and recovery in response to the damage incurred by the Beirut port blast: actors, sectors and institutions.
Discussions also covered current scenarios of recovery and possible visions for desirable futures. The panels were moderated by Joseph Bahout, Director of IFI, Mona Fawaz and Mona Harb, research leads at BUL.
The first panel, "City Elements, the Port, Homes, Heritage, and City Life" tackled four broad sets of issues: the "toll" of the explosion, the "framework" of repair and its organization, each actors' specific involvement in the recovery, and proposals on next steps and aspirations. This first panel hosted Edgar Mourad, Design and Planning Director at Khatib and Alami, Rana Samara, Vice President of Nusaned, Jad Tabet, former President of the Order of Engineers and Architects (OEA), and Research Coordinator at Beirut Urban Lab, Dana Mazraani. Speakers of the first panel agreed that the scale and scope of the damage was immediately related to the neglect and mismanagement of the past decades, emphasizing particularly on institutional and governmental weaknesses as critical failures and major challenges in the current recovery efforts.
Participants on the second panel, "The Institutional Framework of Recovery: 3RF, CFOs, and Accountability", reflected on the LFF/3RF, CSOs, and organizational efforts towards accountability and justice. The panel included Karima Ben Bih, Urban and Disaster Risk Management Specialist at World Bank, who outlined the set efforts deployed by international organizations in supporting the recovery efforts. In addition, Nizar Saghieh, Executive Director of Legal Agenda, argued for the necessity of integrating the principles of justice and accountability in the reconstruction framework of the Beirut blast, given that the explosion is a consequence of the existing system." Saghieh added: "the biggest crime is the total marginalization of the public interest. When we talk about reconstruction we need to remember that the destruction happened because of this crime."
To watch the recording of the webinar, click
here
.