Presentation of the Urban Recovery Strategy for Post-Blast Karantina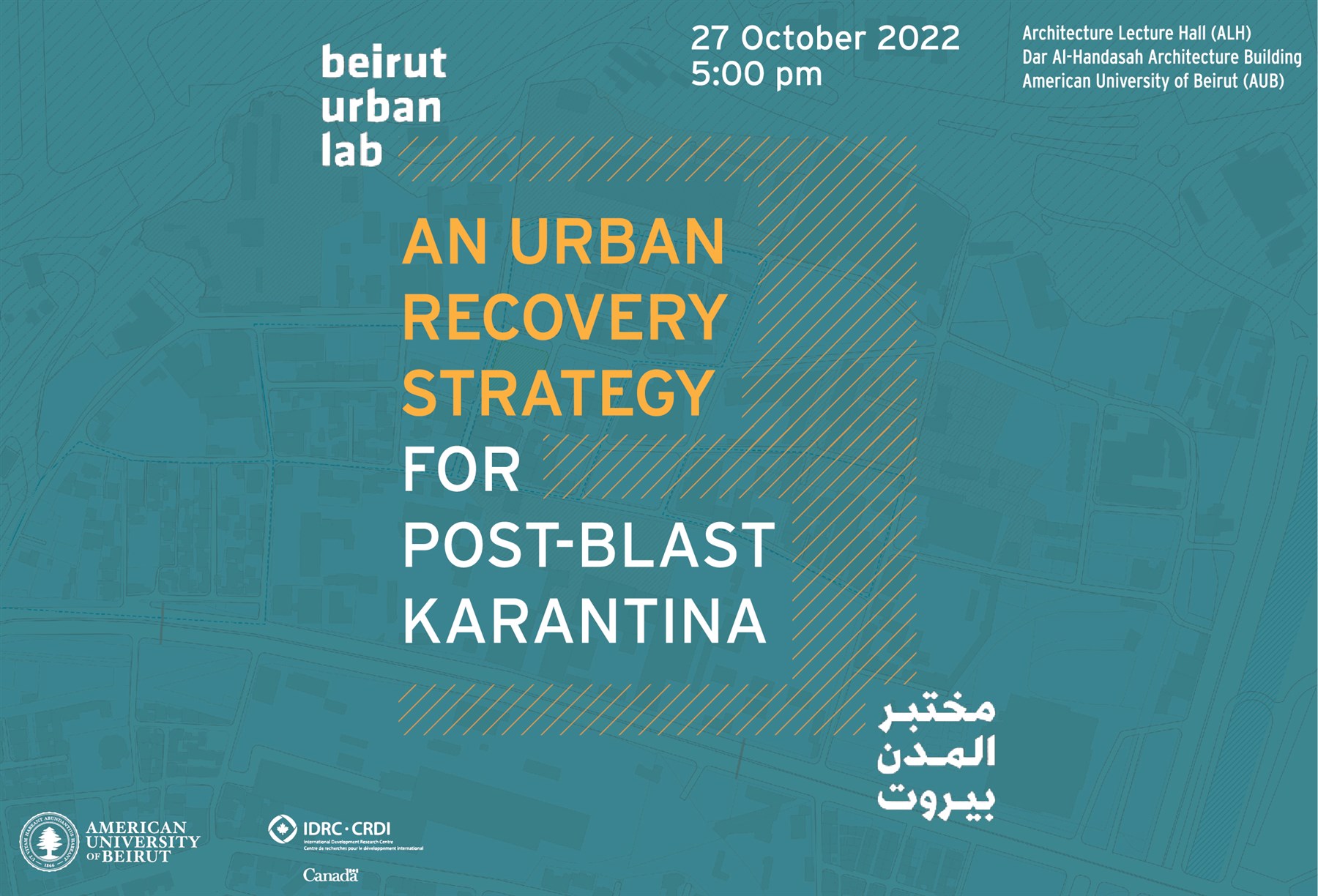 The Beirut Urban Lab (BUL) at the American University of Beirut has the pleasure to invite you to a public presentation on "The Urban Recovery Strategy for Post-Blast Karantina"


Date: Thursday October 27th, 2022 at 5:00pm

Location: The Architecture Lecture Hall in the Department of Architecture and Design, AUB
The BUL will share the findings of its in-depth research and analysis of the five transversal issues: Affordable Housing and Social Inclusion, Spatial, Economic and Social Connectivity, Cultural and Economic Vitality, Inclusive and Sustainable Development, and Quality of the Urban Environment. The BUL will also share the developed Urban Recovery Strategy for Post-Blast Karantina and the proposed action plans.

About Karantina
Karantina, which is approximately 600 meters from the epicenter, was one of the areas that were severely impacted by the port blast. Karantina, which has a long history of welcoming low-income residents and hosting refugees, is also a site of multiple traumas. It is marked by displacement, spatial segregation, and socio-economic marginalization that were exasperated by the blast.

Building on its previous experiences and research on urban recovery, the BUL adopted a holistic and inclusive approach to urban recovery in Karantina that is people-centered, socially-just, and heritage-led. The research team applied the CDS model (City Development Strategy), also known as USDS (Urban Sustainable Development Strategy) and adapted it to the scale of the neighborhood and to the context of post-blast Lebanon. Furthermore, the research team combined the CDS with the Citizen Scientist (CS) model of training and engaging local researchers from the neighborhoods. The two models are complementary; they are participatory in nature and can create multi-faceted community engagement in a shared vision and strategic framework for recovery that is flexible, incremental, and sustainable.