In Memory, Habib Debs
Habib Debs left us too soon, on February 10th, 2023.

Since the early 1990s, Habib Debs has been involved in nearly every battle to improve urban planning and design in Lebanon (and beyond), its standards, methods, and practices. A champion of cultural heritage protection, a gifted public space designer, and a leading figure in city planning, he will be remembered for his incredible talent, innumerable contributions, deep humanism, and his role as an engaged citizen fighting for a more just and secular country.

Habib Debs simultaneously pursued two undergraduate degrees, Civil Engineering (AUB 1981) and Architecture (ALBA 1984). Passionate about Architecture but unwilling to fail the promise he made his late father to study Civil Engineering, he crossed Beirut's dividing lines daily, braving snipers amidst the worst periods of the civil war. Shortly after graduating with a degree in Architecture, he left for France, where he earned a Master's in Urban Planning at l'Ecole des Ponts et Chaussées (1986), a prestigious Grande Ecole, and worked at EPA France.

Habib found his way back home shortly after the end of the civil war, where he established a professional practice, URBI, in 1991. The Agency quickly became recognized for the quality of its work, first in Lebanon and then in the region. It also became a destination for young architects and urban designers inspired to experiment with his aspirational approach to design. Though a private, for-profit firm, URBI dedicated at least as much effort volunteering for non-profit interventions, collaborating with universities, research centers, advocacy groups, and NGOs to place its expertise at the service of Lebanon's cities and towns. In his numerous volunteer and professional projects, which he treated with the same care and dedication, Habib developed master plans, articulated strategic proposals, conceived alternative regulatory frameworks, and proposed detailed public space designs. These include a strategic plan for the Caza of Tyre (Lebanon), a cultural heritage revitalization plan for the city of Tripoli (Lebanon), as well as master plans for the towns of Lebanon's Jezzine and Mount Lebanon areas, and a large redevelopment plan in Saida. His projects also include numerous revitalization plans for old cities in Damascus (Syria), Benghazi (Libya), and Jeddah (Saudi Arabia), as well as the planning of new cities, such as New Cairo and The Tandabawi district in Mecca (Saudi Arabia). Through these projects, one reads about the recurring care for heritage preservation, ecological protection, and, mostly–a passion for putting people at the center of the designer's concerns. Those implemented (e.g., Tripoli, Jezzine, and Mount Lebanon) also serve as successful interventions that largely protected the natural and built heritage and balanced between urgent needs and long-term imperatives.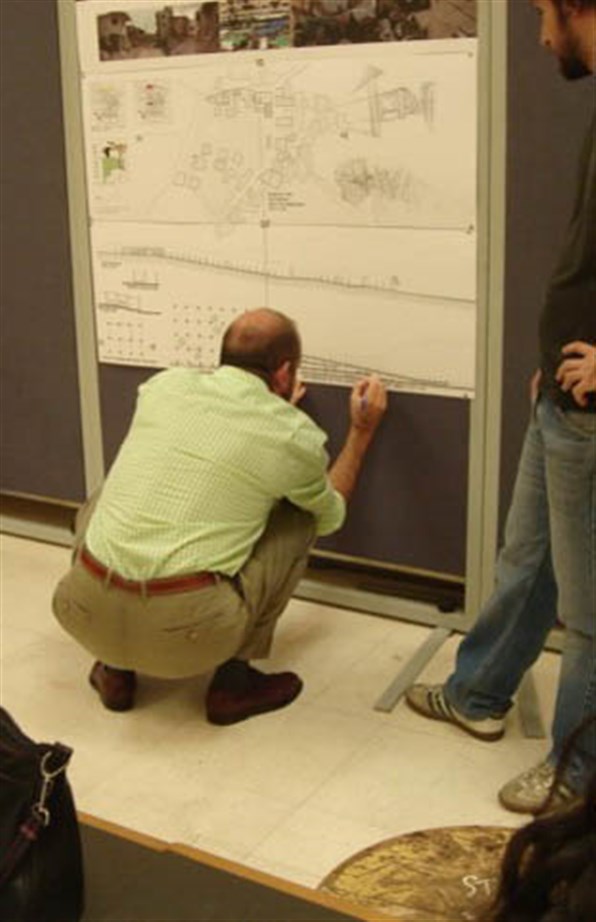 Habib Debs teaching a course at AUB in 2006 (photo: Howayda Al-Harithy)
On site in Bint Jbeil (photo: Howayda Al-Harithy, 2006)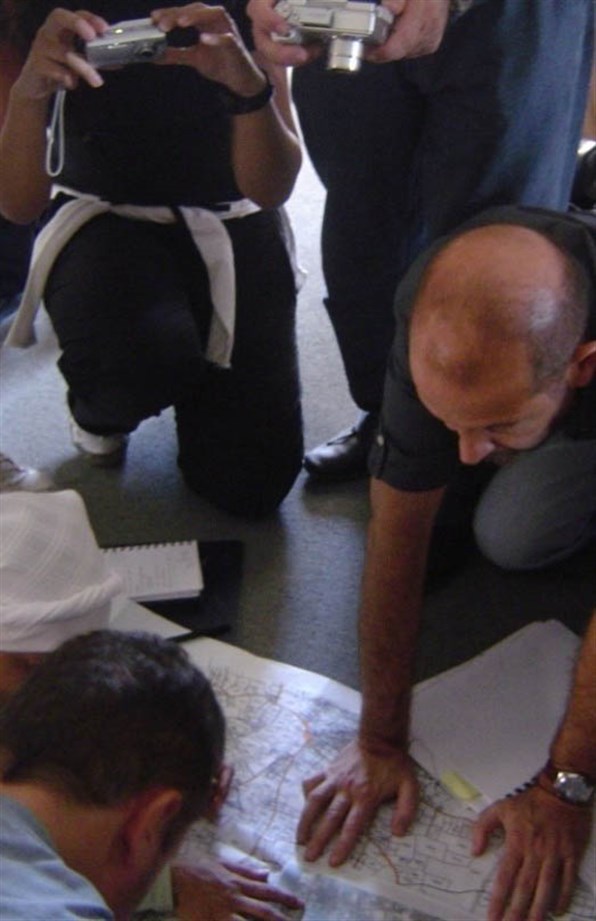 Engaging students on site in Bint Jbeil (photo: Howayda Al-Harithy, 2006)
In Beirut, he was deeply involved in heritage preservation, worked with colleagues and civic organizations, and authored several proposals since the 1990s. He also understood heritage well beyond buildings. His most notable intervention is likely the Plan Vert de Beirut. This elaborate three-part study mapped every neighborhood of Beirut, documenting in-depth its landscape and architectural heritage characteristics before proposing a formidable vision for enhancing local neighborhood specificity within an integrated city-wide strategy. He further developed a proof of concept, the Liaison Douce, a pilot project to pedestrianize Damascus Road. To this end, he spent months on the streets of Ras el Nabaa, where residents came to know his name as the designer who would recover the neighborhood's livability. Shortly after, he volunteered to develop another pedestrian link that re-envisioned a highway trajectory (Fouad Boutros) into a park and worked tirelessly over the past months to design it. In parallel, Habib volunteered his work to develop a full-fledged plan for Beirut's coast as a public space. It mattered little to him whether these plans were commissioned or volunteered. The point was the difference they could make.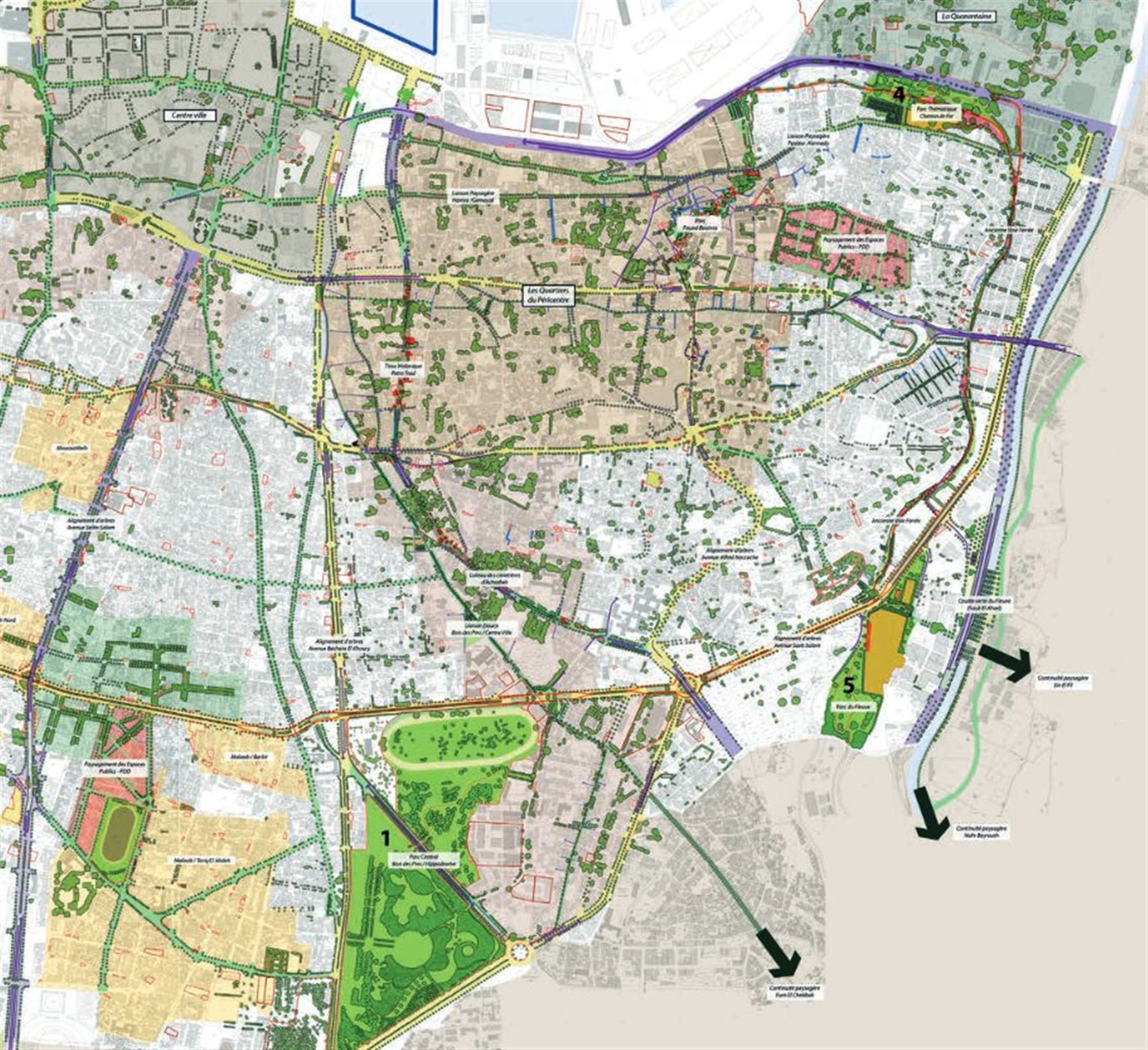 Plan Vert de Beyrouth (2014), developed with Habib Debs as design lead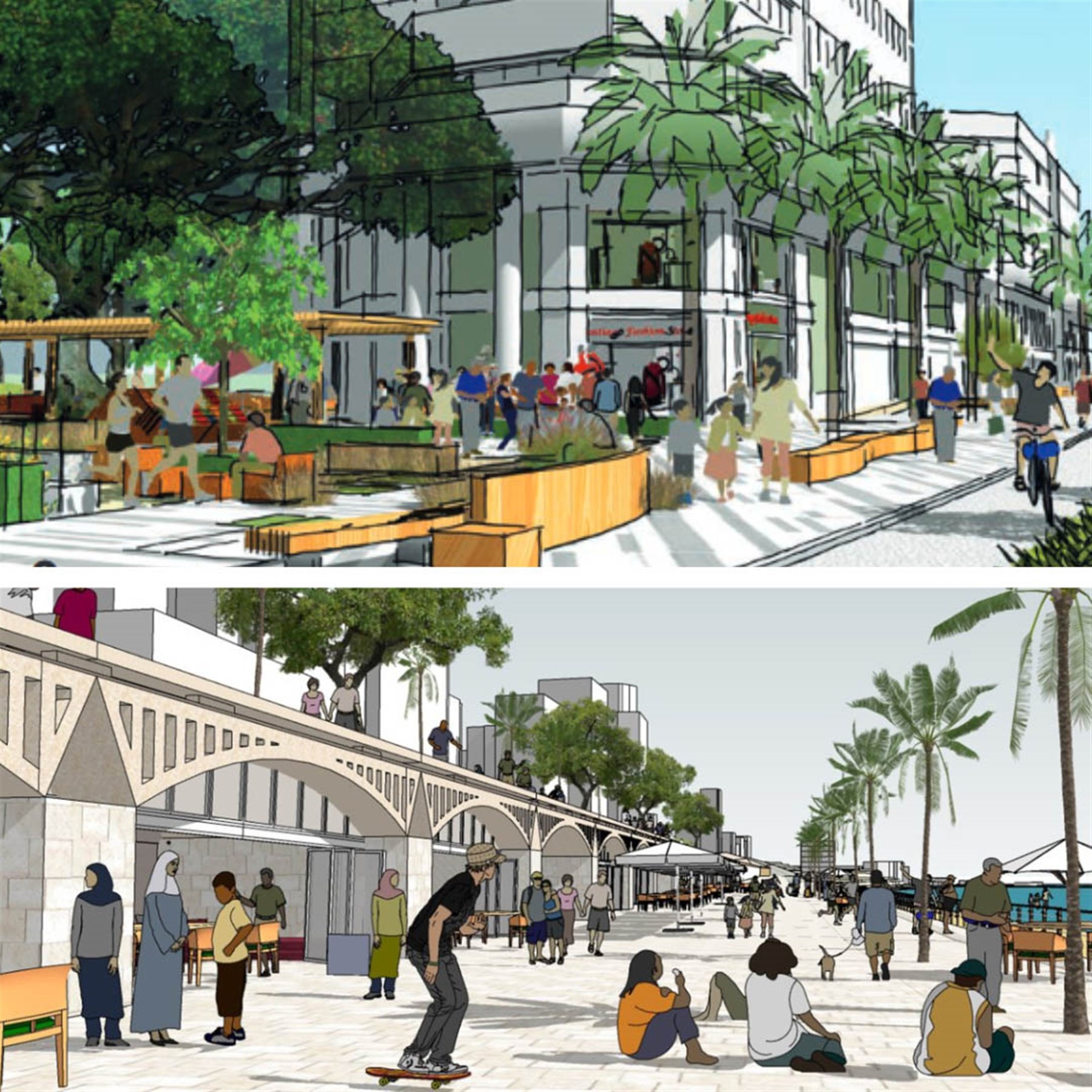 Above - Sketch from Plan Vert Project (2014), Habib Debs lead designer; Below - Sketch from Beirut Zone 10 (2018), Habib Debs lead Urban Designer, Beirut Urban Lab project (below)
Aside from practice and activism, Habib was a dedicated and compassionate design teacher at ALBA and AUB. In studios, he insisted that students spend time on site, observe carefully, and learn from and about users to balance their intuition with the context of their target interventions. His feedback was sharp, consistently generous, constructive, and mindful of students' feelings.

Habib Debs leaves his prints – most of all – in the way his projects recognized the dreams and aspirations of Beirut's city dwellers. Many of us spoke of public beaches, green paths, large parks, and protected heritage. Habib designed and drew them in ways that made them attainable. His schemes helped us imagine how we will live together, better. He saw in these designs a way to engage in his context, to fight the memory of the civil war and the greed that drove urban change in its aftermath. He innovated a practice of urban planning and design where people matter, where history is critical, and respect to the environment and nature is central, while retaining great openness to the possibilities of change. He understood the challenge was in governance, and spent innumerable hours convincing public decision-makers of his schemes.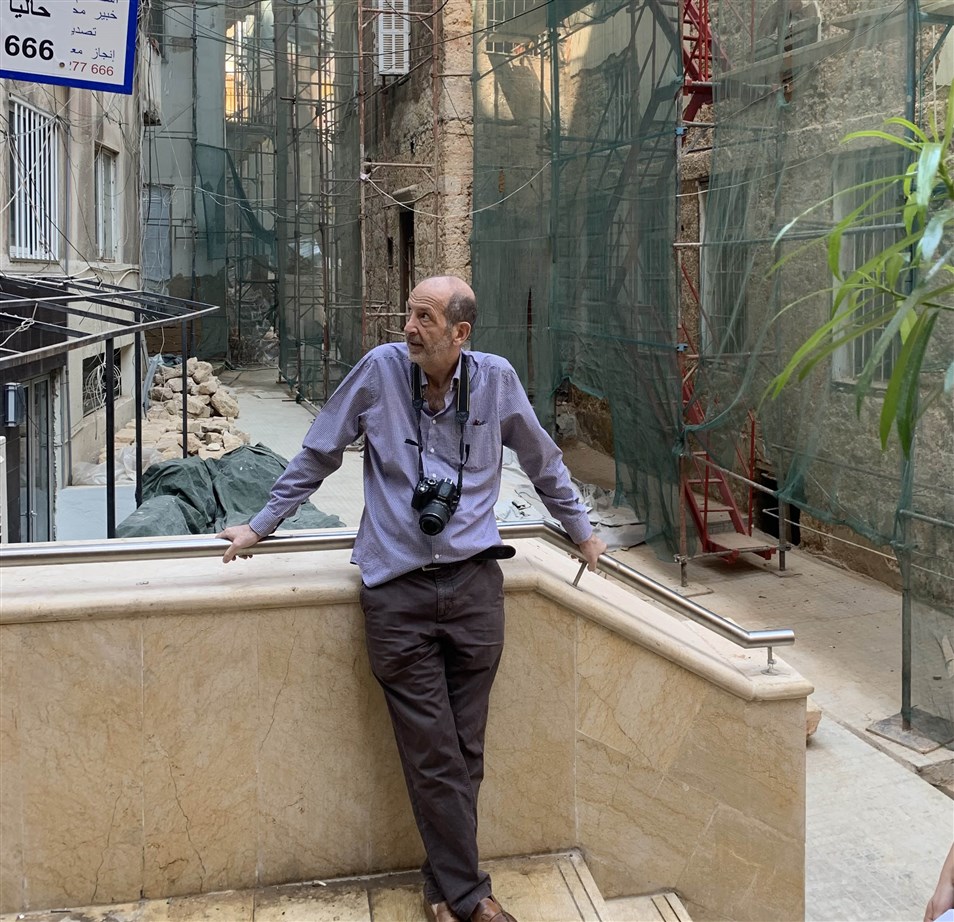 Mar Mikhael post-blast, Ghoulam Staircase (photo: Mona Fawaz, 2021)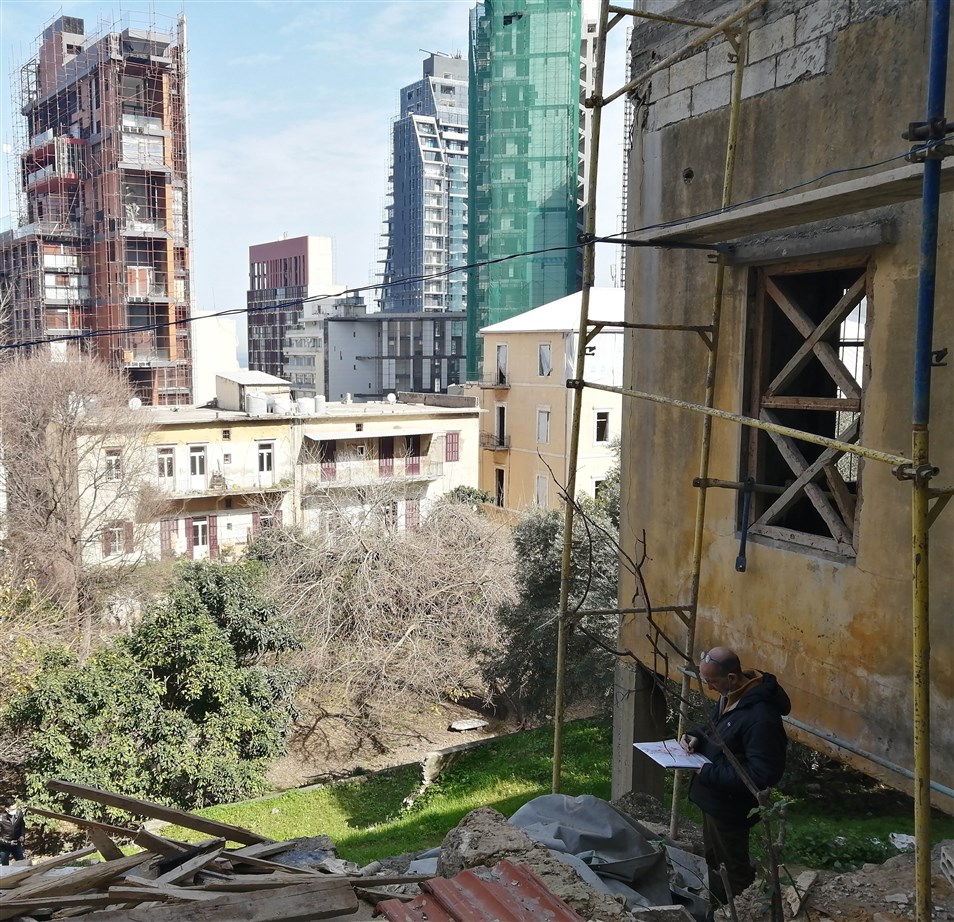 Al-Masar Al-Akhdar site visit (photo: Mariam Bazzi, 2022)
Aside from his work, Habib had a deep love for his spouse and two children. He cherished his family and friends, and always made time for them. He found joy and meaning in taking long hikes and sharing this experience with those he loved. From Mount Hermon to Ehden, Ammiq, and Jroud Donniyeh, the mountains of Lebanon and its plains had no secrets to him. He also enjoyed reading philosophy, and was passionate about classical music and the arts. When he visited, it was consistently with flowers. He was often laughing, always generous, and happy to share everything he had except, perhaps, a chocolate dessert.

He will be remembered as an incredibly talented designer and a deep humanist who fought for his ideas in the hardest of times and never lost faith in the possibilities for change. He left us on Friday, February 10th after a long battle with illness, his spouse and children beside him. His last long presentation was from his bed in the Intensive Care Unit, arguing and explaining the importance of public space to a client online, with the oxygen mask on, his laptop on the side table. This is the image we will keep: a human being committed to his values until the end.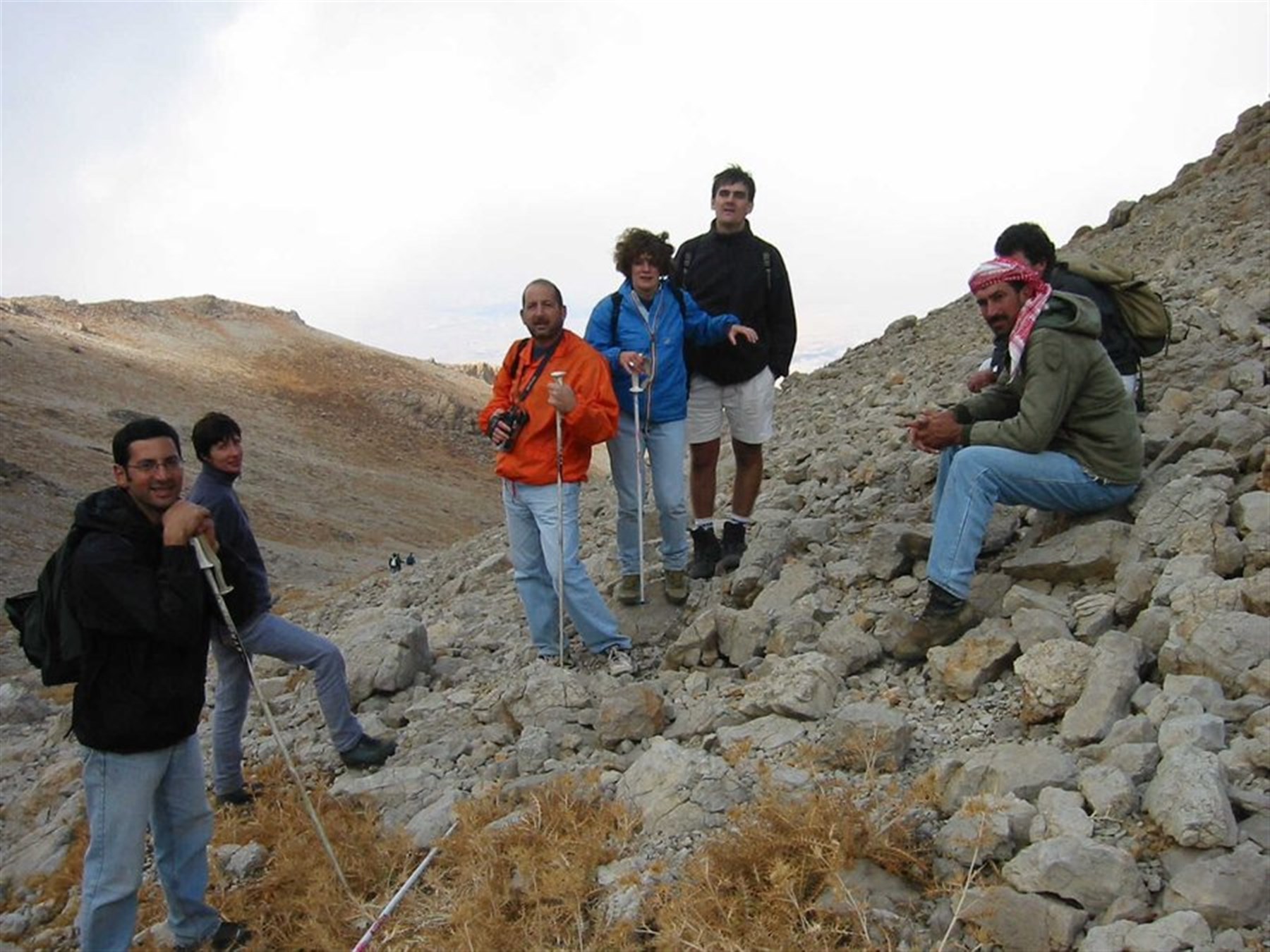 Mount Hermon, personal hike (photo: Mona Fawaz, 2003)