The Beirut Urban Lab is a collaborative and interdisciplinary research space. The Lab produces scholarship on urbanization by documenting and analyzing ongoing transformation processes in Lebanon and its region's natural and built environments. It intervenes as an interlocutor and contributor to academic debates about historical and contemporary urbanization from its position in the Global South. We work towards materializing our vision of an ecosystem of change empowered by critical inquiry and engaged research, and driven by committed urban citizens and collectives aspiring to just, inclusive, and viable cities.
What we do
Produce and disseminate impactful knowledge in the form of scholarship, critical inquiry, and documentation.
Advance design as an impact-oriented reflective practice.
Develop experimental methods and innovative tools of investigation.
Foster learning experiences through training, mentoring, and knowledge exchange.
Invest in nurturing networks that support the ecosystem of change at multiple scales.
Engage multiple publics through informing and influencing academic debates, policy making, activism, and professional practice.
Where we come from
The Beirut Urban Lab builds on a legacy of urban research initiatives, starting in 2006. Indeed, the 2006 Israeli assault on Lebanon (12 July – 14 August) was a pivotal moment that sparked a state of urgency around which many faculty members in AUB-Architecture and Design (ArD) converged. Together and separately, Ahmad Gharbieh, Howayda Al-Harithy, Mona Fawaz and Mona Harb reacted by channeling their expertise towards addressing the war's impact and aftermath, on both personal and professional levels. Ahmad Gharbieh, with the Samidoun media team, produced daily maps of the Israeli assault on Lebanon, paving the way for the Lab's understanding of maps as powerful tools for media activism.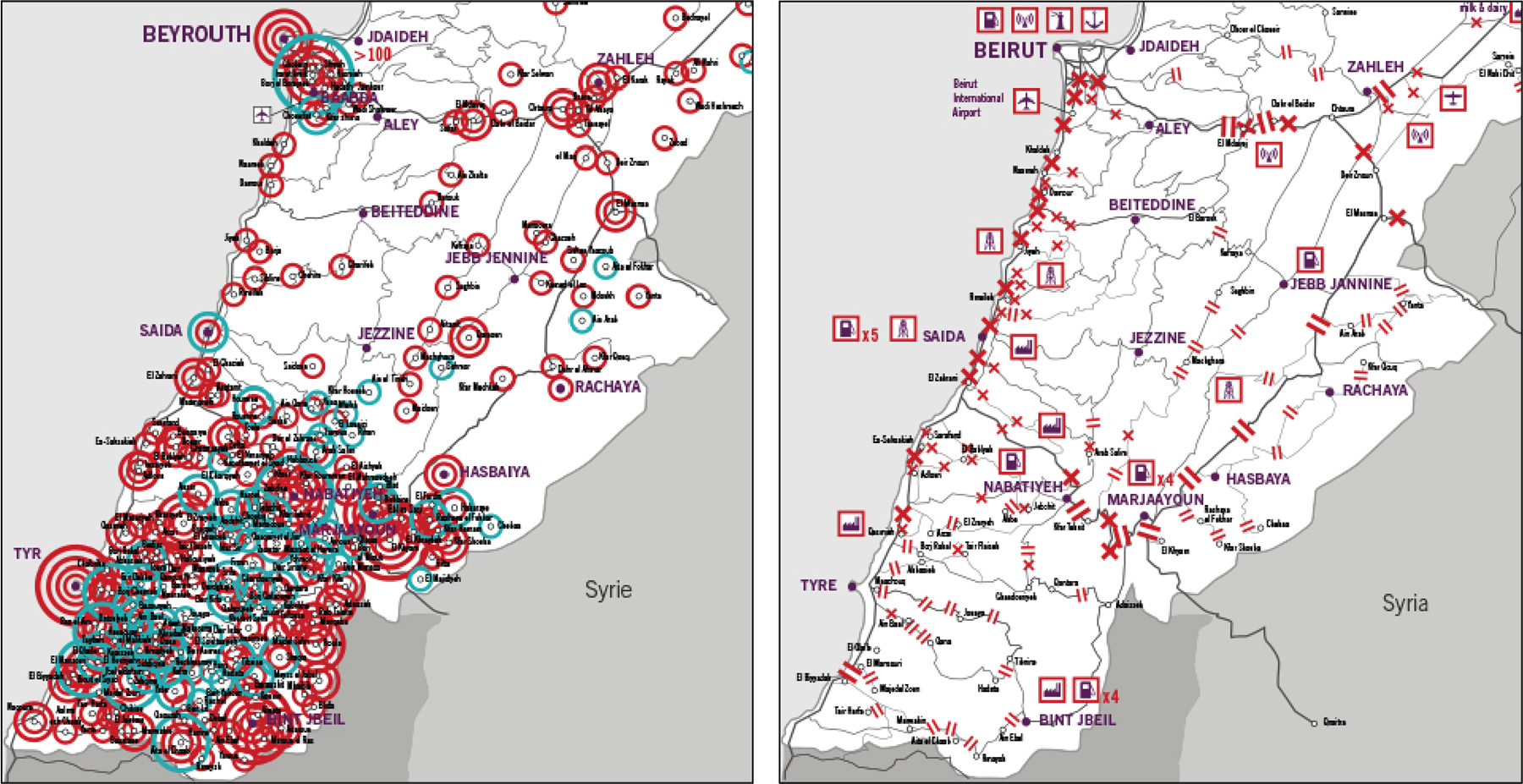 Solidarity Maps: Israeli Assault on Lebanon, Samidoun Media Team, 2006, Map design: Ahmad Gharbieh and Zeina Maasri.
In the AUB graduate programs in Urban Planning, Policy and Design, Mona Harb, Howayda Al-Harithy, and Mona Fawaz established the Post-War Reconstruction Unit where they conducted research, studio teaching, and workshops to influence post-war recovery with inclusive, participatory processes in several locations across the country. This work would establish the path for interdisciplinary collaborations at the Department of Architecture and Design.
In the following years, we would initiate multiple joint projects, working on a range of inter-disciplinary challenges that fostered collaborations with social scientists, engineers, planners, designers, and visual artists, integrating academic and pedagogical research projects with the city's public institutions and grassroots organizations. Projects examined the militarization of public space, post-disaster spatial recovery, the transformation of urban commons, and more. Aside from the typical academic papers and books published, we chose to engage our context by exhibiting our work and giving public presentations in small, open, local venues, printing lay publications, and publishing articles in the local press.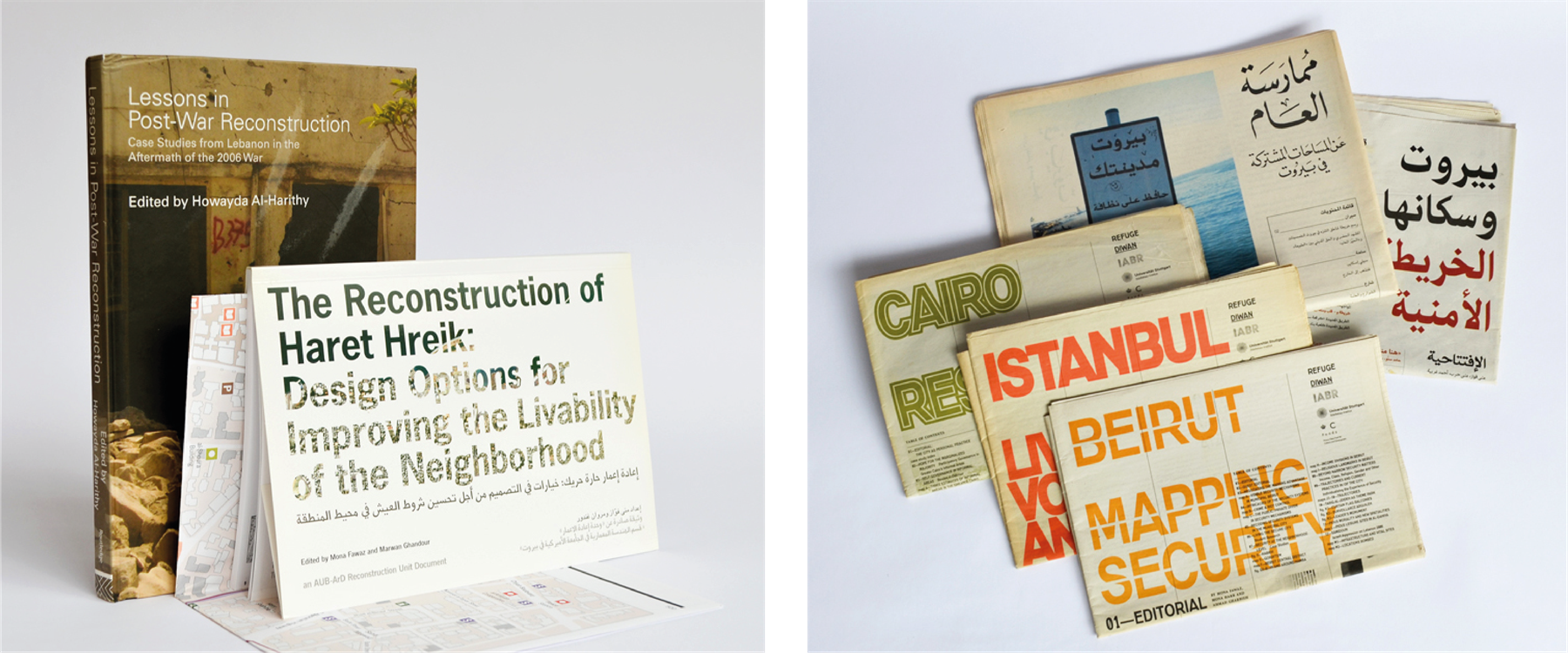 Left: Some of the work published as a result of the Post-War Reconstruction unit; Right: Newspaper supplements published between 2009 and 2015, and distributed widely in Lebanon.
Projects also fed and supported the yearly events organized at AUB, particularly City Debates which is a yearly conference organized by the graduate programs in Urban Planning and Policy and Urban Design (MUPP/MUD).
Central to all these collaborative projects was the deployment of mapping as an analytical research method and faith in the map as an apt communication tool. An innovative approach to studying urban transformations and advancing inclusive cities have thus progressively consolidated from these projects, one that believes in the democratization of academic knowledge, while recognizing the importance of engagement with critical edge contemporary thought and techniques.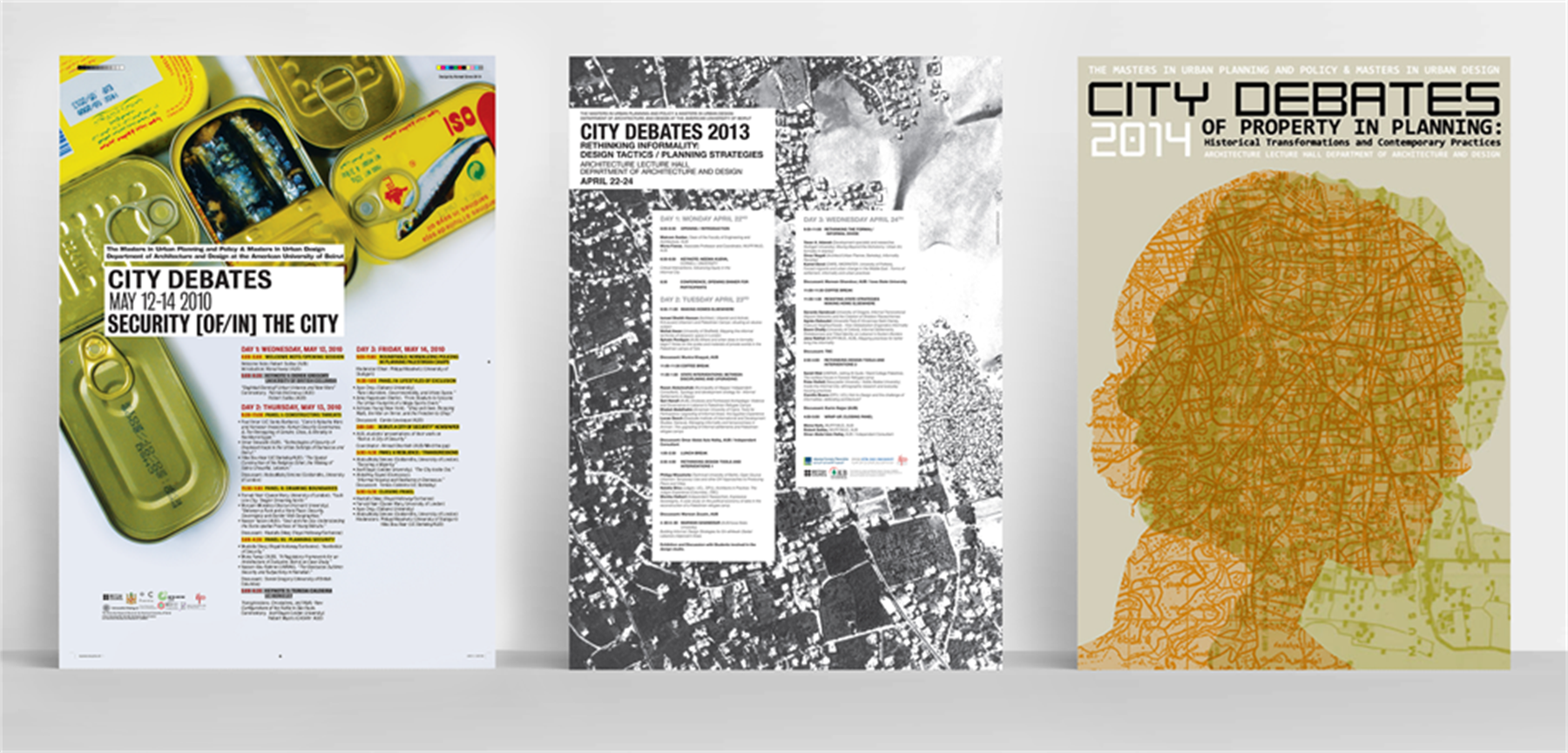 City Debates is a yearly conference that gathers scholars from around the world around discussions of salient debates in urban studies and planning.
We worked diligently to consolidate these initiatives into a research center. Our efforts materialized in 2018, when we founded the Urban Lab in the Maroun Semaan Faculty of Engineering and Architecture (MSFEA). Our main objective was the consolidation and institutionalization of our collaborative work, and the materialization of our common vision for an academic entity that contributes to an ecosystem of change aspiring to just, inclusive and viable cities. The Lab includes a group of talented and motivated researchers, many of whom started as students in ArD, joined the team after working on causes that intersect with its values, or chose the Lab as a space where they can advance their careers as young researchers and designers.
Collaborations and partnerships
The Beirut Urban Lab seeks to nurture networks that support the ecosystem of change at multiple scales, across geographies and disciplines. The Lab collaborates in its projects with scholars, researchers, institutions, public agencies, activists, professional groups, grassroot collectives, and with local communities in the areas where we work.
contact us
Raymond Ghosn Building, American University of Beirut, Maroun Semaan Faculty of Engineering and Architecture
PO Box. 11-0236 Riad El Solh 1107 2020, Beirut Lebanon
work with us
Beirut Urban Lab is constantly looking to expand its team through different fields of expertise, such as planners, researchers, designers and project managers...
If you would like to be part of our team and be part of our developing projects, submit your application on
Or check out our latest