God's Property: Islam, Charity, and the Modern State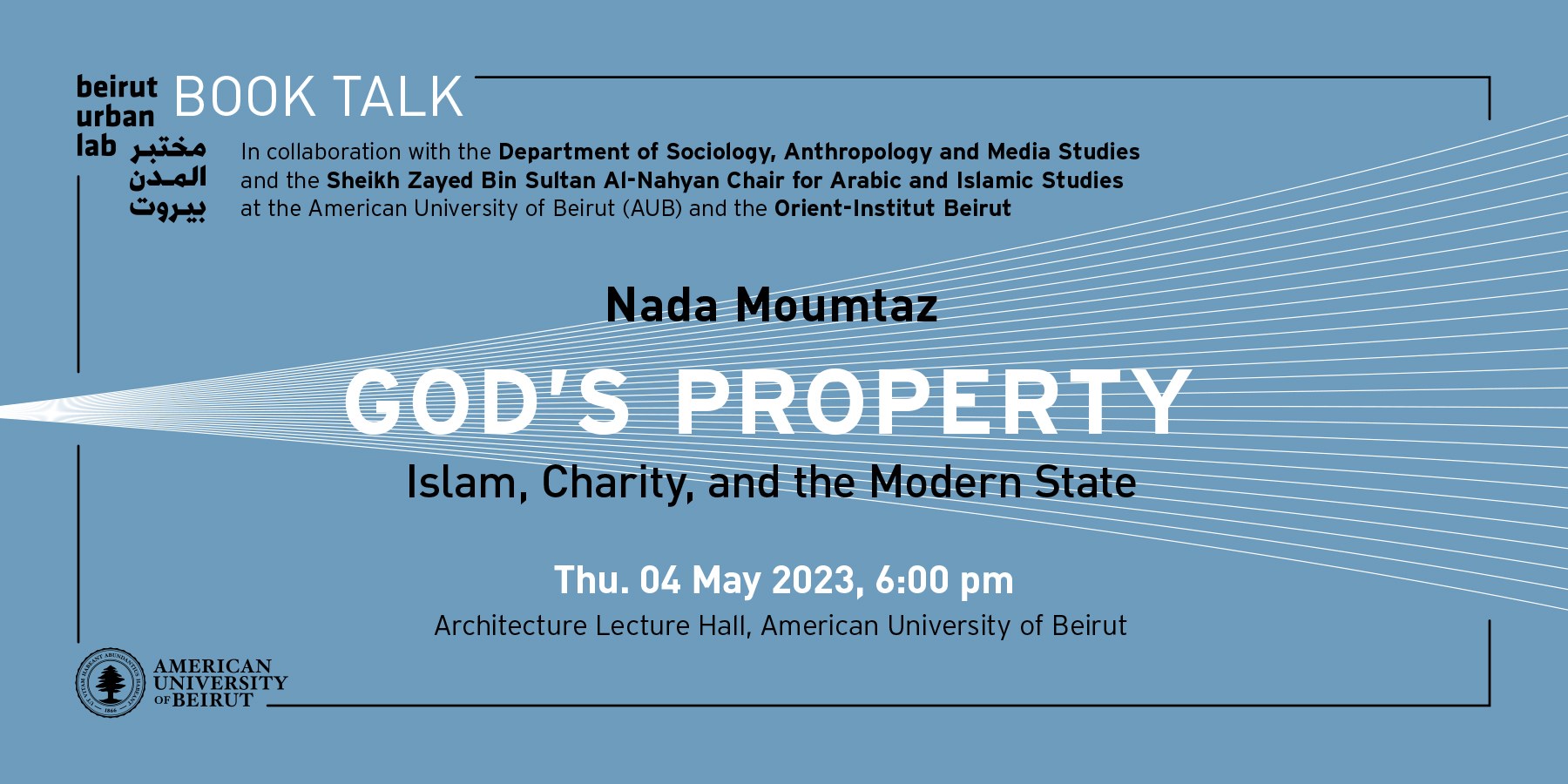 Join us for our third Book Talk

Date: Thursday, May 4, 2023 at 6:00pm
Location: Architecture Lecture Hall, Dar Al Handasah Design and Architecture Bldg., American University of Beirut


God's Property: Islam, Charity, and the Modern State

Authored by Nada Moumtaz

Discussants:
Howayda Al-Harithy, Professor of Architecture and Urban Design, Research Lead at Beirut Urban Lab
Maya Mikdashi, Associate Professor in the Department of Women's, Gender, and Sexuality Studies at Rutgers University
Samer Ghamroun, Assistant Professor at the Faculty of Law and Political Science at Saint Joseph University of Beirut

Moderated by:
Nadia von Maltzahn, Research Associate at the Orient-Institut Beirut


All are welcome!
Bios
Nada Moumtaz is Associate Professor in the Department for the Study of Religion and the Department of Near and Middle Eastern Civilizations at the University of Toronto. She received her B.Arch from the Department of Architecture and Design at the American University of Beirut and her PhD in Cultural Anthropology from the Graduate Center of the City University of New York. Her research stands at the intersection of anthropology, history, and Islamic legal studies, and spans the nineteenth and twenty-first centuries in the Levant. Throughout her work, Nada addresses how, beginning in the nineteenth century, Islamic tradition has transformed while continuing to challenge and provide alternatives to dominant sensibilities, conceptions, and institutions of the modern world. Her book God's Property: Islam, Charity, and the Modern State received an honorable mention from the Clifford Geertz Prize of the Society for the Anthropology of Religion and from the J. Willard Hurst Prize of the Law and Society Association. She is embarking on a new project to examine practices of elderly care among Sunni Muslims in Beirut.

Howayda Al-Harithy is a Professor of Architecture and Urban Design at the American University of Beirut (AUB), where she is currently serving as Founding Director of the School of Design. She is also a Research Director at the Beirut Urban Lab. Her research focuses on urban heritage with an emphasis on the theoretical debate on heritage construction and consumption related to identity building and post-war reconstruction in the Arab world. Her current work conceptualizes urban recovery in relation to processes of historical editing, urban trauma, and protracted displacement. She is widely published with over 50 articles, book chapters, and reports in leading journals and refereed books. As part of her earlier work on Mamluk heritage, she published The Waqf Document of Sultan Al-Nasir Hasan b. Muhammad b. Qalawun for His Complex in Al-Rumaila.

Samer Ghamroun is an Assistant Professor at the Faculty of Law and Political Science at Saint-Joseph University of Beirut, where he teaches legal sociology and anthropology, legal history, and constitutional law, among other courses. Samer holds a PhD in legal sociology from the École Normale Supérieure of Cachan, in Paris, on the subject of judicial competition between juvenile and sharia judges in Lebanon, around the protection of children and women's rights. Samer's research and publications pertain to law and society relations in Arab contexts, covering topics such as the religious legal systems for family law and their relationship with civil systems, as well as legal pluralism and the state's normative power. His research interests also include legal professions, and the relationship between politics, law and the judiciary in Lebanon and the Arab region. Samer partook in the initial effort to build the Legal Agenda, a non-profit organization based in Beirut and Tunis whose work aims at bridging the gap between research and activism, and between law and other social sciences. He was a member of its first team in 2010 and held several research responsibilities there, before presiding over its Board between 2014 and 2018. He is currently a senior researcher and a scientific editor within the LA team in Beirut, in charge of developing the institution's research efforts in using the social sciences, their theories and methods, to study legal practices and judicial institutions and professions in Arab countries.

Maya Mikdashi is an Associate Professor in the Department of Women's, Gender, and Sexuality Studies at Rutgers University. Her first book Sextarianism: Sovereignty, Secularism and the State in Lebanon (SUP, 2022) theorizes the relationships between sexual difference and political difference, the religious and the secular, and law, bureaucracy, and biopower. Her work is grounded in ethnographic and archival research, and has been translated into Arabic, Turkish, French, Spanish, German and Korean. Maya has been published in several peer reviewed journals, including the International Journal of Middle East Studies, Gay and Lesbian Quarterly, the Journal of Middle East Women's Studies, American Ethnologist, Transgender Studies Quarterly, Comparative Studies of South Asia, Africa and the Middle East, the Journal of Palestine Studies, and the American Indian Culture and Research Journal. She has also been published in peer reviewed edited volumes and in public facing venues. She is a co-founding editor of Jadaliyya, and is a member of the editorial collectives of Comparative Studies of South Asia, Africa and the Middle East, Middle East Law and Governance, Agitate!, and Social Text. Maya is co-director of the documentary film About Baghdad (2004), filmed in Iraq in 2003, and director of Notes on the War (2006), filmed in Lebanon in 2006. She holds degrees from the Lebanese American University, Georgetown University, and Columbia University.


Nadia von Maltzahn is a Research Associate at the Orient-Institut Beirut (OIB), where she leads the research project "Lebanon's Art World at Home and Abroad: Trajectories of artists and artworks in/from Lebanon since 1943" (LAWHA), funded by the European Research Council under grant agreement 850760. She holds a DPhil in Modern Middle Eastern Studies from St. Antony's College, University of Oxford. Nadia's publications revolve around cultural policies and artistic practices in Lebanon and the Middle East, and include The Art Salon in the Arab Region: Politics of Taste Making (Beirut: Orient-Institut Beirut, 2018), co-edited with Monique Bellan, and The Syria-Iran Axis: Cultural Diplomacy and International Relations in the Middle East (London: I.B. Tauris, 2013/2015). Her works have been published in a number of journals including Comparative Studies of South Asia, Africa and the Middle East, Quaderni storici, Manazir, Middle East Topics & Arguments, and the Middle East Journal of Culture and Communication.