Beirut, A City for Sale?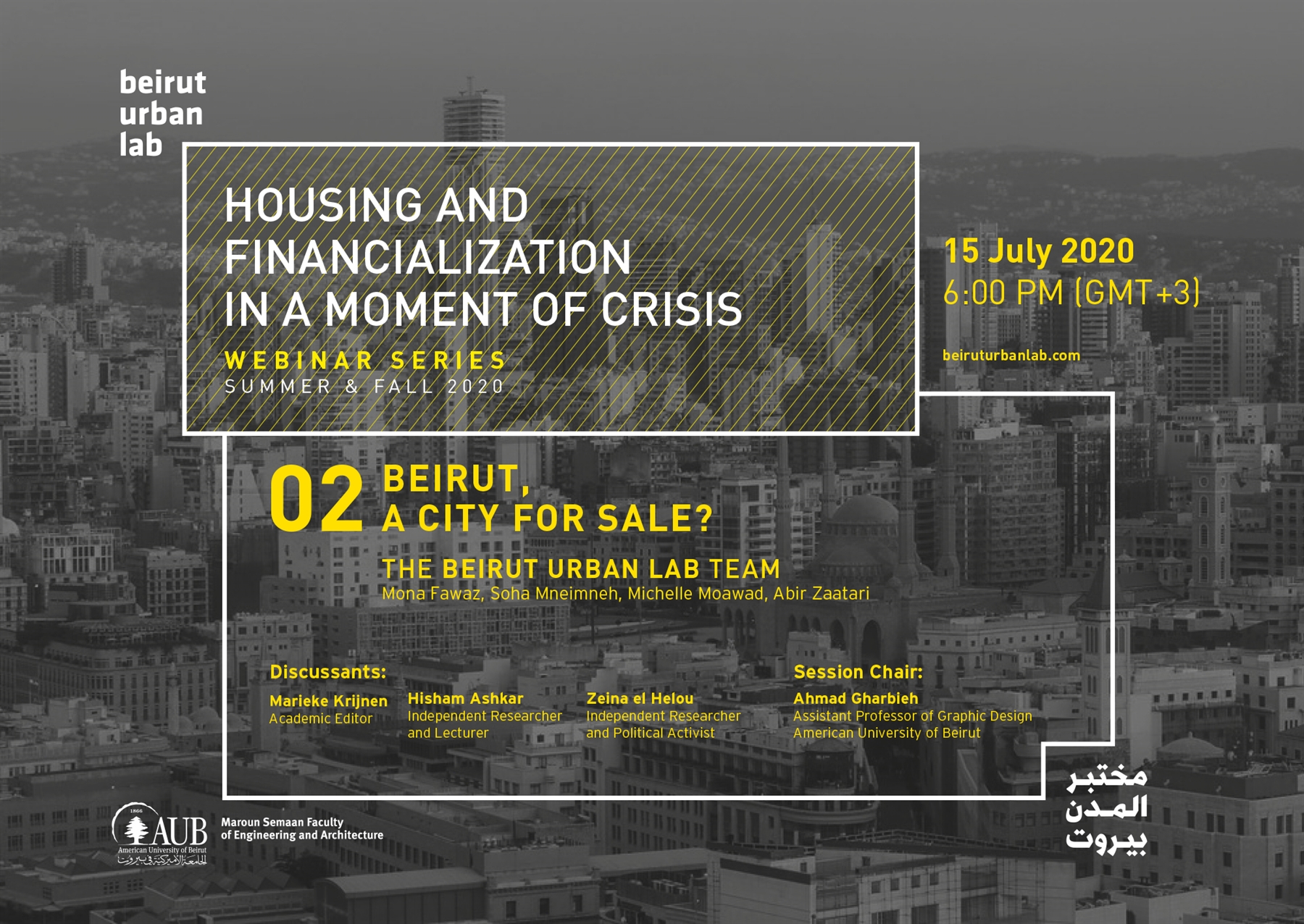 Wednesday, July 15, 2020 @6pm Beirut (GMT +3)
Register here!

Beirut, A City for Sale?
Mona Fawaz, Professor of Urban Studies and Planning, AUB
Soha Mneimneh, Researcher, Beirut Urban Lab
Michelle Mouawad, Researcher, Beirut Urban Lab
Abir Zaatari, Researcher, Beirut Urban Lab

Discussants:
Marieke Krijnen, Academic Editor
Hisham Ashkar, Independent Researcher and Lecturer
Zeina el Helou, Independent Researcher and Political Activist

Session Chair:
Ahmad Gharbieh, Assistant Professor of Graphic Design, AUB

Bios
Mona Fawaz is Professor in Urban Studies and Planning at the American University of Beirut. She is also the co-director of the Beirut Urban Lab, a recently established research center that engages policymakers, activists, and researchers in Lebanon and the region on questions of urban inclusion and post-conflict recovery. Fawaz also leads the urban track at the Issam Fares Institute of Public Policy at AUB (the Social Justice and the City program) and is a fellow affiliated to the Lebanese Center for Policy Studies. She is the author of over 50 articles, reports, and book chapters investigating issues of housing, informality, property, law, and planning theory and pedagogy.
Abir Zaatari is an urban planning researcher and architect working at the Beirut Urban Lab. Abir's research draws from the related fields of urban planning and economics, focusing on the impacts of state policies on housing justice and affordability in Beirut's housing market over the past decade.
Michelle Moawad studied Agricultural and Environmental Sciences, which is her area of interest and passion. She enjoys working with large data and its annoying details and hence is currently handling and coordinating many of the Beirut Urban Lab's projects, datasets, and logistics.
Soha Mneimneh is an urban planner and architect working at the Beirut Urban Lab. Her research focuses on the impact of public planning policies, particularly housing finance, on developers' building activities and middle-class residents' struggle to secure shelter in Beirut. Her research has also looked at the intersection of market activities and sectarianism, demonstrating that heavy reliance on financial networks has exacerbated urban territorial divisions in Beirut. She holds a Master of Urban Planning and Policy from AUB's MSFEA.
Hisham Ashkar is a doctor of economics and social sciences (Dr. rer. pol.), urban planner, architect, cartographer, photographer, and investigative journalist. He is also an occasional lecturer at the Lebanese University, Department of Urban Planning. His research centers on the relations between politico-economic systems and the production of urban space, with a focus on gentrification processes. Personal website:
hishamashkar.org
. Twitter: @hisham_ashkar
Zeina El Helou is the founder and lead researcher of Ra'i for Research and Development, a private research company established in Beirut in 2015. Prior to that, Zeina worked in several positions including the Lebanese Center for Policy Studies (2006-2010). She is the author of a large number of reports and research papers tackling issues of radicalization in Lebanon, independence of elections, and others. She is currently associated with LCPS as a Senior Researcher. Zeina has served as the elected Secretary General of the Lebanese Association for Democratic Elections for a two-year term (March 2016 – March 2018) and as the Lebanese representative on the Radicalization Advisory Group of the Third Way Institute, Jordan in 2010. Zeina holds a Masters degree in Journalism from Université Assas – Paris II in conjunction with the Lebanese University. She also holds a Master's degree in Political Science from Saint-Joseph University.
Marieke Krijnen is a full-time editor specializing in copyediting academic manuscripts. She obtained an MA from the American University of Beirut in 2010 and a PhD in Political Science in 2016 from Ghent University, Belgium. She completed a postdoctoral fellowship at the Orient-Institut Beirut in 2016–2017. Her thesis looked at the urban transformation of Beirut following the 2008 financial crisis and focused on the role of real estate developers and the banking sector herein. Marieke published several articles on gentrification and the rent gap in Beirut. She has a strong background in urban studies, geography, and the political economy of the Middle East. She is currently enrolled in the Professional Editing Standards Certificate program at Queen's University, Canada and is a member of the Society for Proofreaders and Editors (SfEP) and SENSE, the Society for English-language professionals in The Netherlands.
Ahmad Gharbieh is Assistant Professor of Graphic Design at the American University of Beirut. His scholarly work explores mapping as a method of researching, representing and analyzing socio-spatial phenomena. His work in critical cartography has covered many subjects including urban security, public space and, more recently, refugee practices int the city. At the Beirut Urban Lab, he directs the Critical Mapping team.