Municipal Beirut Basemap Available for Download!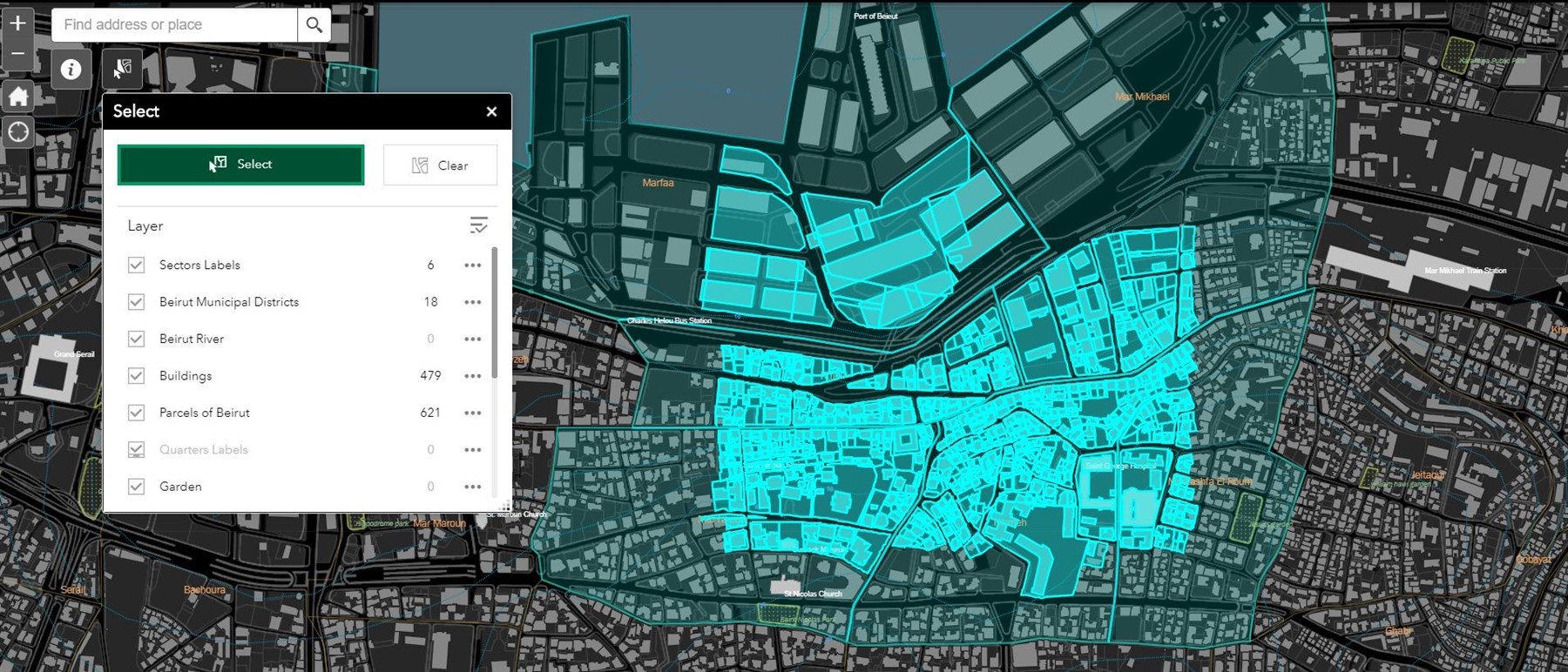 The Beirut Urban Lab is providing an up-to-date basemap of Municipal Beirut for all to download.
Developed in partnership with the LNSCR, this base map of Municipal Beirut provides layers of building footprints, property boundaries, lot numbers, roads, and elevation lines updated to the latest survey of 2019. The map also contains Electricité du Liban's official neighborhood divisions as well as official cadastral zones. In light of the current relief and recovery efforts in Beirut, the Lebanese Red Cross' division of intervention areas was added. This base map is part of the Beirut Built Environment Database initiative that invites researchers, professionals, and activists who are interested in investigations of the city's built environment to rely on its layers as a basis for more advanced explorations of urban trends.
Relief and recovery efforts in Beirut after the Blast
In an effort to encourage coordination and avoid duplications, the Beirut Urban Lab has reached out and distributed this base map to actors working on the ground. Actors relying on this base map for their surveys include the Municipality of Beirut, the Lebanese Order of Engineers and Architects, the Lebanese Red Cross, UN-Habitat, platforms such as USHAHDI, and NGOs like the Lebanese Heritage Society, Nusaned, and many others. As the Lab, we are ready to share our knowledge in GIS and mapping to produce an integrated assessment of both the destruction and social impacts of the blast, as well as to help articulate a participatory vision of the recovery and aid efforts. We would be happy to receive collected data and map it, overlapping different data sets, and making the results available for the use of all. To all entities gathering data on the ground, we encourage you to collect lot number as part of your surveys, even if you are not using mapping tools.
Technical details
You can download the full basemap or part of it through two ways:


To download all of Municipal Beirut's parcels and buildings, you can go to this hub. Downloads are available in Shapefile, KML and CSV formats. We will be adding new layers to this hub with time.
To download directly part of the basemap, go to our Beirut Building Database platform. On the home page, click on the "Select" tool next to the "Information" button. From there, you can select the sections you want to download from the chosen layers. With that tool, you can download the selected elements in GEOJson, Json, or CSV formats.
License and Crediting
These layers are made available under the
Open Database License (ODbL)
. Please attribute your use of these layers by citing it as such: "The Beirut Built Environment Database, by the Beirut Urban Lab (American University of Beirut) and Lebanon's National Council for Scientific Research (CNRS)".