Lebanon's Housing Ecosystem and Self-Recovery Pathways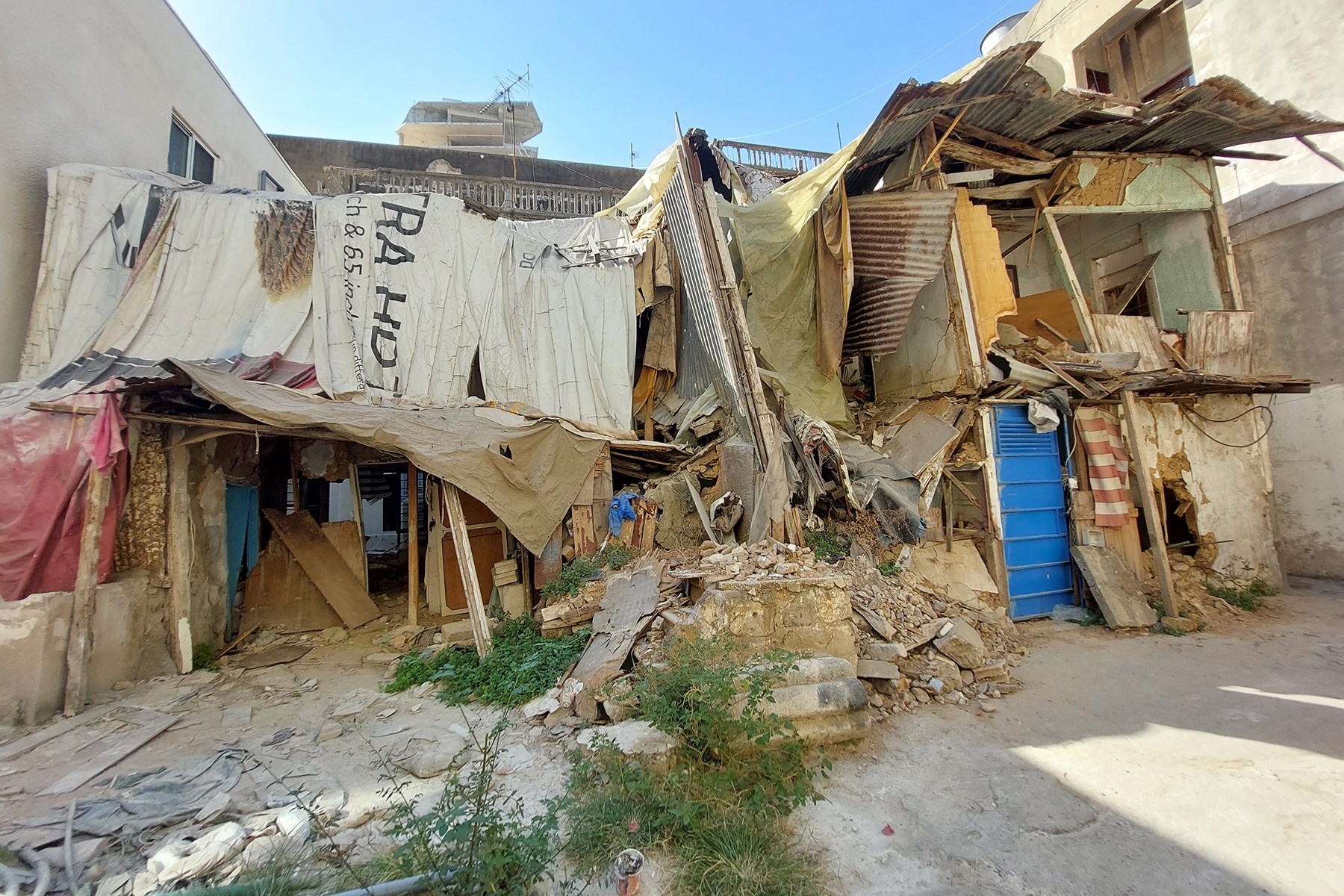 A fragile structure severely damaged by the blast in Mar Mikhael. (Photo: Abir Zaatari, September 2021)
This report investigates post-disaster repairs in the housing sector following the 2020 Beirut port blast in the context of ongoing overlapping crises (e.g., financial, political, social). In contrast with a dominant narrative that focuses on the role of non-governmental organizations in post-disaster repairs, the report takes the standpoint of vulnerable households who strived to secure the "repair"1 of their homes.

The report consists of two sections. The first section introduces the context of Lebanon's housing ecosystem. This section provides a detailed overview of public housing policies since independence (e.g., public housing, rental, housing loan). It further locates Lebanon's full delegation of the post-blast shelter repair to the non-governmental sector within a longer tradition of public neglect of the right to housing.

The second section builds on the approach developed by colleagues at the Oxford Brookes University and relies on urban dwellers' ability to repair their homes as the entry point to the study of shelter recovery. The research traces the multiple trajectories through which specific households accessed the critical ingredients needed to fix their homes (e.g., information, financing, materials, labor).

The research further links the forms of housing tenure (e.g., tenants, informal occupants, owner-occupied) to the ability of households to control the repair process. This section is based on empirical investigations directly conducted in the field.

The report's central conclusion is that despite substantial efforts exerted by dwellers to retain control and improve their housing conditions, the framework of post-disaster recovery adopted in the aftermath of the Beirut port blast exacerbated households' pre-existing vulnerabilities. The report further highlights the negative impacts of dysfunctional housing regulations on the post-blast shelter recovery. The report concludes with recommendations that point towards more equitable post-disaster recovery strategies.


1 'Repair' is deliberately used instead of 'recovery' in acknowledgment that the latter encompasses a broad range of strategies and interventions beyond those employed to repair physical damage in afflicted households.