Detroit: Disaggregated Urbanism at a Time of Crisis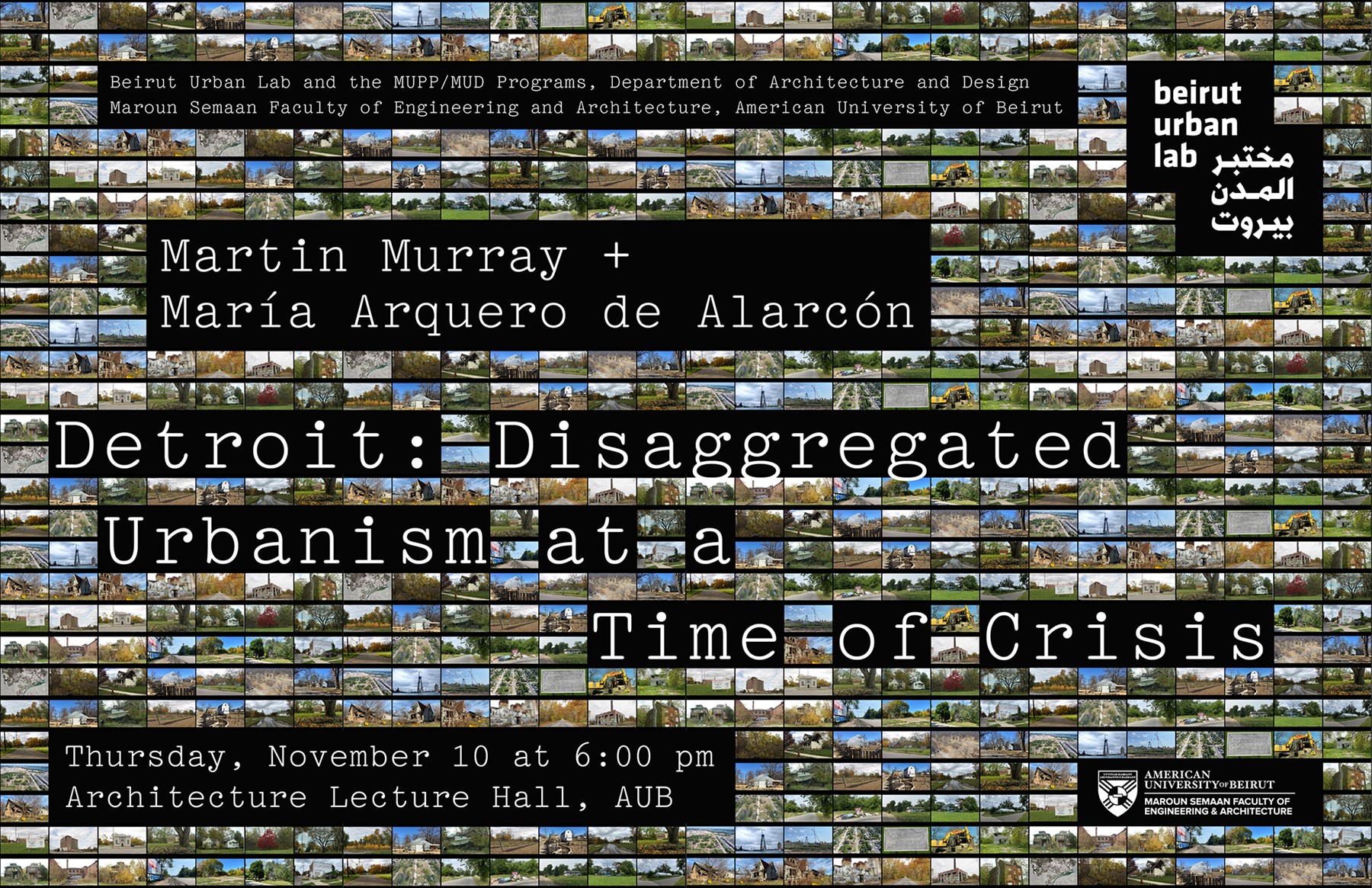 The Beirut Urban Lab and the MUPP/MUD Programs at the Department of Architecture and Design (ArD), MSFEA, AUB are hosting a public lecture titled

Detroit: Disaggregated Urbanism at a Time of Crisis

Date: Thursday, November 10th at 6:00pm

Location: Architecture Lecture Hall, AUB


Speakers:
Professor Martin Murray
Professor María Arquero de Alarcón


Abstract:
This project critically examines the ongoing urban transformation of Detroit's inner-city neighborhoods largely characterized by a surplus of vacant land, entrenched disinvestment, and withdrawal of municipal services. Despite what might look like similarly neglected urban landscapes, the production of neighborhood decline has diverged along alternative pathways. In the face of fiscal austerity and the withering away of public services, how have NGOs, philanthropic organizations, private companies, and grassroots efforts filled in the gaps of conventional city-making governance structures? We argue that Detroit has become a prototype for what we call a "post-urban city," a peculiar type of composite urbanism in the hypermodern age of global capitalism. To unpack this working concept, our project interrogates the assemblage of distinctive organizing principles that characterize the post-urban city: discontinuous and uneven patterns of spatial fragmentation, fiscal austerity, and the withering away of public administration of urban spaces, and the emergence of non-state actors and do-it-yourself initiatives that have largely replaced municipal service provision.
Speakers' Bios
Martin Murray is a tenured Full Professor in the Urban and Regional Planning Program at Taubman College, University of Michigan. He is also Adjunct Professor, Department of Afro-American and African Studies, University of Michigan. He began his academic career as a sociologist with a strong foundation in urban geography. His current research engages the fields of urban studies and planning, global urbanism, cultural geography, distressed urbanism, development, historical sociology, and African studies. In addition to eight books and three co-edited volumes, he has produced close to seventy journal articles and book chapters that focus on diverse geographical areas of the world at different historical periods. After his first book on French colonialism in Vietnam, Cambodia, and Laos (The Development of Colonialism in French Indochina, University of California Press), Professor Murray pursued a deep and abiding interest in the politics of South Africa and has published on a range of topics including class formation and rural transformation, the transition from apartheid to parliamentary democracy, city building, and urban planning.

María Arquero de Alarcón is an Associate Professor of Architecture and Urbanism at the University of Michigan. Her research examines the socio-environmental entanglements of contemporary urban transformations, the changing meaning of place over time, and the tactics distinct urban agents employ to claim their right to the city. In her work, she focuses on issues of cultural resilience and environmental adaptation and advocates for urban design to embrace a spatial justice lens in the co-production of just city futures. Her work on Detroit critically examines the ongoing urban transformation of inner-city neighborhoods in the post-bankruptcy era. Prior contributions are part of the edited volumes Mapping Detroit: Land, Community, and Shaping a City and The Third Coast Atlas: Prelude to a Plan of the Great Lakes Region. She is a faculty member at the Detroit River Story Lab, a transdisciplinary project building on local partnerships to research, co-produce and disseminate historically, culturally, and contextually nuanced stories harnessing the river's emblematic role in the lives and struggles of its adjacent communities. Her collaborative work in São Paulo, Brazil, is part of a multi-year participatory action research project that investigates the socio-spatial and environmental transformations in the city's periphery and the role of the different actors and institutions mediating land conflicts instigated by an ever-growing housing crisis.