Sextarianism: Sovereignty, Secularism, and the State in Lebanon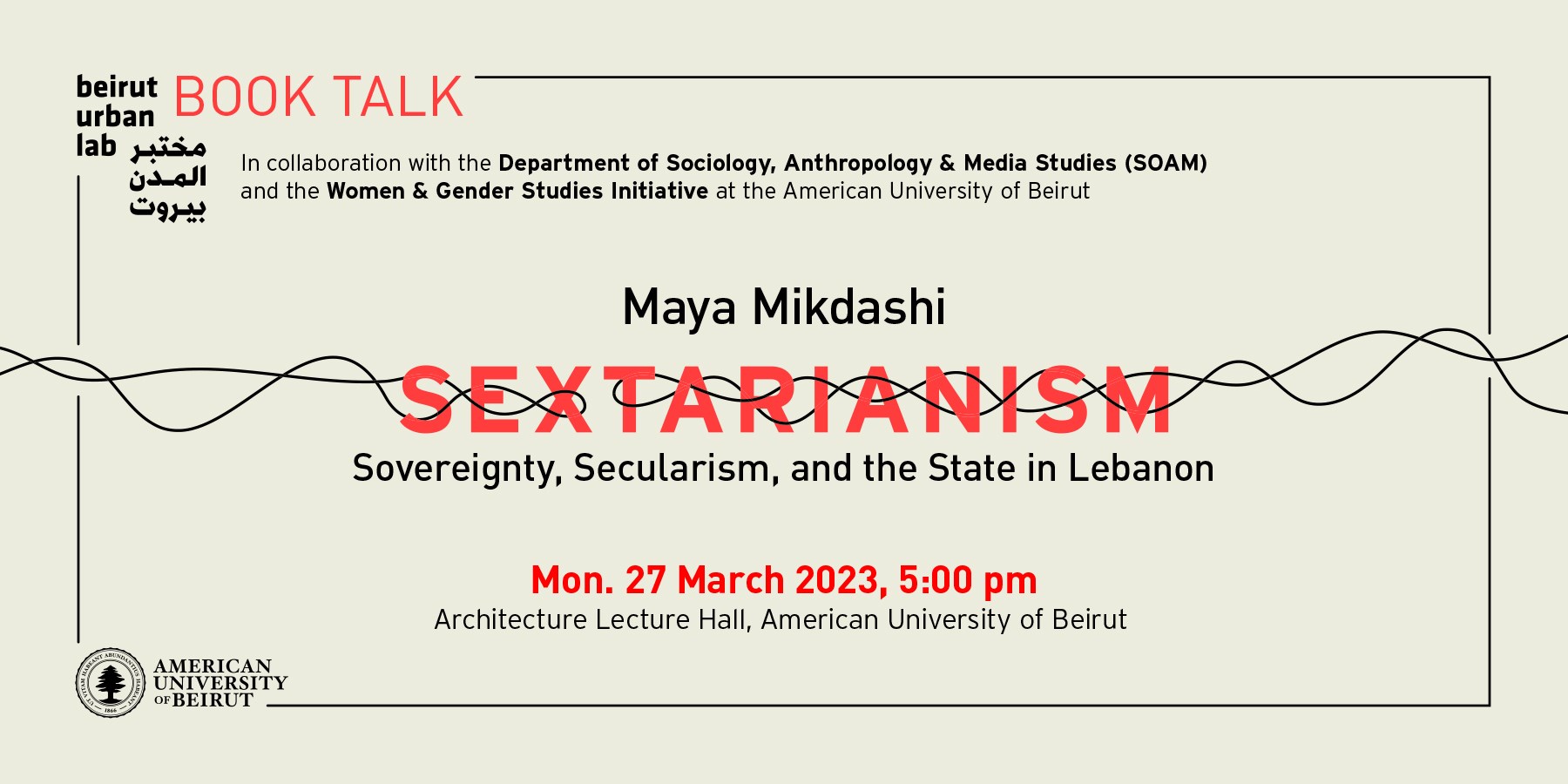 Join us for our second Book Talk

Date: Monday, March 27, 2023 at 5:00PM (daylight savings time, GMT+2)
Location: Architecture Lecture Hall, American University of Beirut


Sextarianism: Sovereignty, Secularism, and the State in Lebanon

Authored by Maya Mikdashi

Discussants:
Sara Mourad, Assistant Professor of Media Studies at the American University of Beirut
Elizabeth Saleh, Assistant Professor of Anthropology at the American University of Beirut
Jamil Mouawad, Founding Member of the Beirut School for Critical Security Studies

Moderated by:
Mona Harb, Professor of Urban Studies and Politics at AUB, Research Lead at Beirut Urban Lab

All are welcome!

Bios
Maya Mikdashi is an Associate Professor in the Department of Women's, Gender, and Sexuality Studies at Rutgers University. Her first book Sextarianism: Sovereignty, Secularism and the State in Lebanon (SUP, 2022) theorizes the relationships between sexual difference and political difference, the religious and the secular, and law, bureaucracy, and biopower. Her work is grounded in ethnographic and archival research, and has been translated into Arabic, Turkish, French, Spanish, German and Korean. Maya has been published in several peer reviewed journals, including the International Journal of Middle East Studies, Gay and Lesbian Quarterly, the Journal of Middle East Women's Studies, American Ethnologist, Transgender Studies Quarterly, Comparative Studies of South Asia, Africa and the Middle East, the Journal of Palestine Studies, and the American Indian Culture and Research Journal. She has also been published in peer reviewed edited volumes and in public facing venues. She is a co-founding editor of Jadaliyya, and is a member of the editorial collectives of Comparative Studies of South Asia, Africa and the Middle East, Middle East Law and Governance, Agitate!, and Social Text. Maya is co-director of the documentary film About Baghdad (2004), filmed in Iraq in 2003, and director of Notes on the War (2006) filmed in Lebanon in 2006. She holds degrees from the Lebanese American University, Georgetown University, and Columbia University.

Sara Mourad is an Assistant Professor of Media Studies at the American University of Beirut, where she also co-directs the Women & Gender Studies Program. She received her PhD in Communication at the University of Pennsylvania and her BA in Political Science at AUB. Sara's work is at the intersection of cultural studies, feminist theory, and Middle East Studies. Her book in process, on women's narratives in postwar Lebanese public culture, examines novels, films, television series, and activist publications to consider how womanhood has been constituted as an identity and how female narrative shaped the formation of feminism as a cultural field in contemporary Lebanon. Sara is also working on a book of essays about motherhood and the question of time in feminism. In 2018, she was awarded a fellowship as a Visiting Scholar at the Center for the Study of Gender and Sexuality at New York University. Her research and writing on media and gender politics in the Arab world is published in the International Journal of Communication, Critical Studies in Media Communication, the Journal of Communication Inquiry, Jadaliyya, Legal Agenda, and Daraj.

Elizabeth Saleh is an Assistant Professor in Socio-cultural Anthropology at the American University of Beirut. She works at the intersection of political and economic anthropology. Her first long-term ethnographic fieldwork was based in Lebanon's Bekaa Valley and culminated in 2014 in her doctoral thesis at Goldsmiths, University of London. Her PhD thesis is entitled Trade-marking Tradition: an Ethnography of Lebanon's Wine Industry. Elizabeth's current ethnographic research began in 2015 and is about the lives of underage Syrian waste pickers growing up at a small scrapyard located in a run-down building in Beirut. The book in progress has the working title, Junk Territory: Coming of Age at a Beirut Scrapyard. It focuses on questions of value pertaining to the way young waste pickers buttress, engage, and become entangled with Beirut's infrastructures as well as different economies of recycling and their supply chains. The book documents how different schemas of worth and value intersect with profit-making infrastructures, currencies of intergenerational obligation, and the interplay between host and migrant communities. It shows how Beirut is a city pieced together through a medley of different enterprises and projects facilitating an equally hodgepodge provision of public services.

Jamil Mouawad teaches politics at the American University of Beirut. He is also a Senior Fellow at the Arab Reform Initiative. He holds a PhD in politics from the School of Oriental and African Studies (SOAS). He is a founding member of the Beirut School for Critical Security Studies, and the Ethics in Social sciences initiative, both on-going projects launched by the Arab Council for Social Sciences (ACSS). His research interests in state-society relations span the subfields of comparative politics and political economy. He specializes in the politics of the Middle East, with a focus on governance and state-society relations. His has several publications that appeared in Middle East Critique, Critique Internationale, and Arab Studies Journal. He is also a regular commentator on Middle East and Lebanese Politics.

Mona Harb is a Professor of Urban Studies and Politics at the American University of Beirut where she is also co-founder and research lead at the Beirut Urban Lab. Her research investigates governance and territoriality in contexts of contested sovereignty; urban activism and oppositional politics; and how people make collective life in fragmented cities. She is the author of Le Hezbollah à Beirut: de la banlieue à la ville, co-author of Leisurely Islam: Negotiating Geography and Morality in Shi'i South Beirut (with Lara Deeb), co-editor of Local Governments and Public Goods: Assessing Decentralization in the Arab World (with Sami Atallah), and co-editor of Refugees as City-Makers (with Mona Fawaz et al.). She serves on the editorial boards of MELG, IJMES, EPC, and CSSAME.