Book Talk: Sextarianism: Sovereignty, Secularism, and the State in Lebanon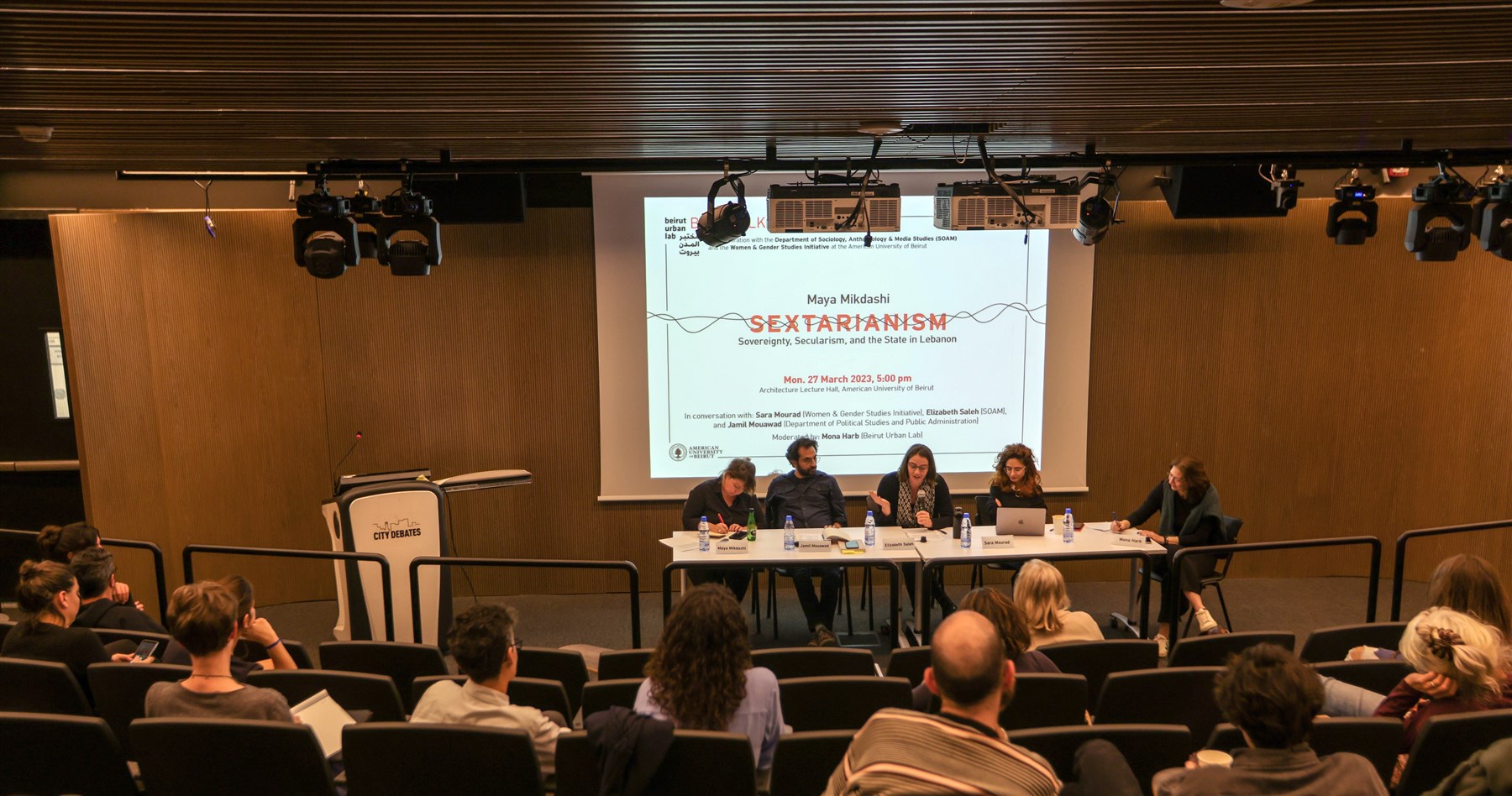 On March 27, 2023, the Beirut Urban Lab (BUL), in collaboration with the Department of Sociology, Anthropology & Media Studies (SOAM) and the Women and Gender Studies Initiative at the American University of Beirut, held a discussion of Maya Mikdashi's first book titled: Sextarianism: Sovereignty, Secularism, and the State in Lebanon (Standford University Press, 2022).

The discussion was introduced by the Lab's co-directors Ahmad Gharbieh, Associate Professor of Graphic Design and Mona Harb, Professor of Urban Studies and Politics at AUB, who later moderated the conversation. Author Maya Mikdashi (Associate Professor in the Department of Women's, Gender, and Sexuality Studies at Rutgers University) briefly presented her book, its concepts, and its archival, ethnographic, and feminist methods. She was joined by discussants Sara Mourad, Assistant Professor of Media Studies and co-director of the Women & Gender Studies Program at AUB, Elizabeth Saleh, Assistant Professor of Anthropology at AUB, and Jamil Mouawad, Lecturer in Politics at AUB.

About the Book
With
Sextarianism: Sovereignty, Secularism, and the State in Lebanon
, Maya Mikdashi offers a new way to understand state power, theorizing how sex, sexuality, and sect shape and are shaped by law, secularism, and sovereignty. Drawing on court archives, public records, and ethnography of the Court of Cassation, the highest civil court in Lebanon, Mikdashi shows how political difference is entangled with religious, secular, and sexual difference. She presents state power as inevitably contingent, like the practices of everyday life it engenders, focusing on the regulation of religious conversion, the curation of legal archives, state and parastatal violence, and secular activism.
Sextarianism
locates state power in the experiences, transitions, uprisings, and violence that people in the Middle East continue to live.
Watch the full video of the Book Talk
here
.