Book Talk: The Revolutionary City: Urbanization and the Global Transformation of Rebellion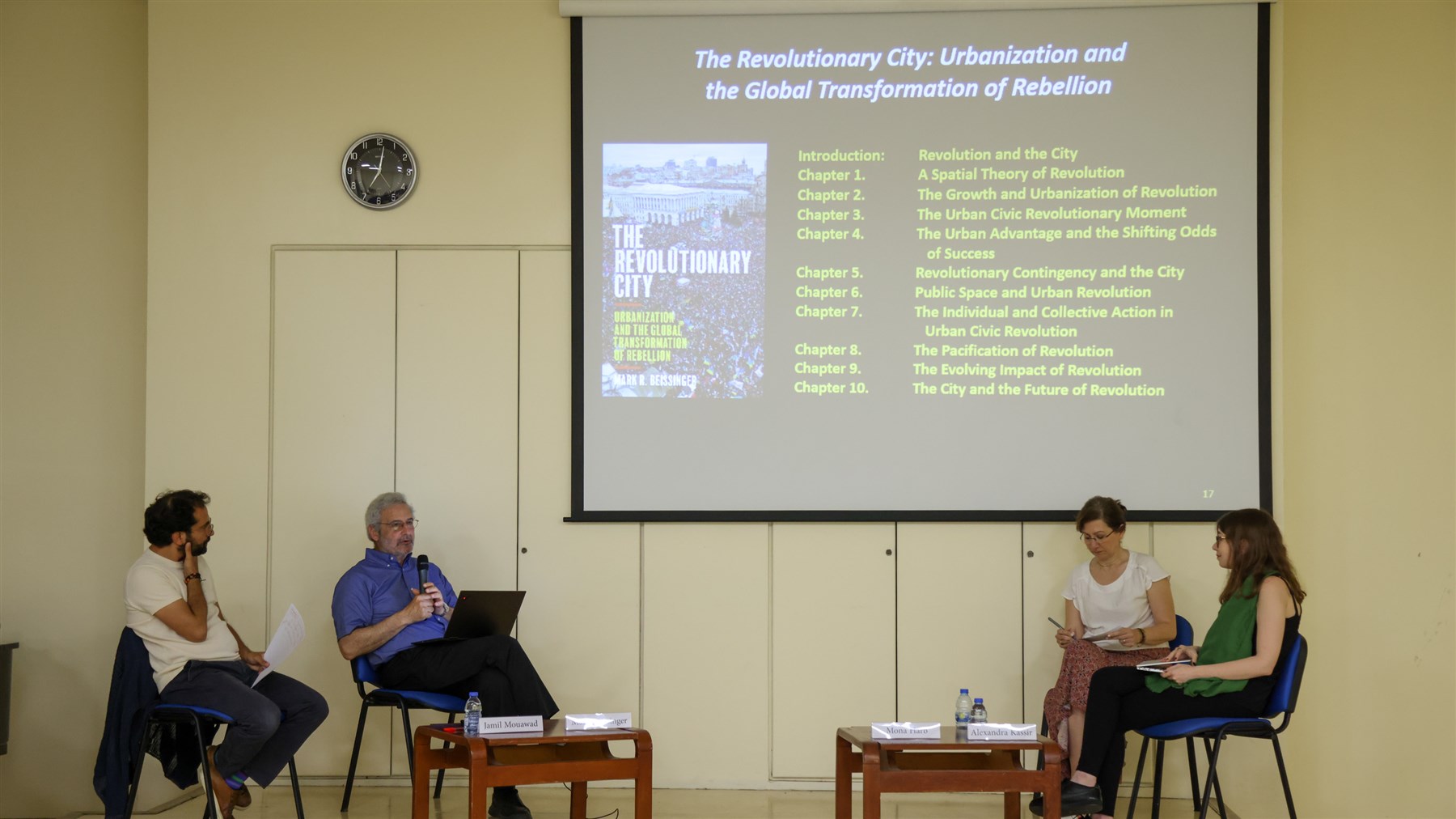 On Monday June 5, 2023 the Beirut Urban Lab, in collaboration with the Bobst-AUB Collaborative Initiative at the Faculty of Arts and Sciences, held a book discussion of The Revolutionary City: Urbanization and the Global Transformation of Rebellion (Princeton University Press, 2022) by Mark Beissinger, a Henry W. Putnam Professor in the Department of Politics at Princeton University. In his book, Beissinger examines the evolution of political revolutions over the past century as a mode of regime change. The author was joined by discussants Mona Harb, Professor of Politics and Urban Studies at the American University of Beirut and co-Founder and Research Lead at the Beirut Urban Lab, and Alexandra Kassir, incoming Assistant Professor of Sociology at the American University of Beirut. This book talk was moderated by Jamil Mouawad, Visiting Assistant Professor of Politics at the American University of Beirut.

About the Book
Examining the changing character of revolution around the world, The Revolutionary City focuses on the impact that the concentration of people, power, and wealth in cities exercises on revolutionary processes and outcomes. Once predominantly an urban and armed affair, revolutions in the twentieth century migrated to the countryside, as revolutionaries searched for safety from government repression and discovered the peasantry as a revolutionary force. But at the end of the twentieth century, as urban centers grew, revolution returned to the city—accompanied by a new urban civic repertoire espousing the containment of predatory government and relying on visibility and the power of numbers rather than arms.

Using original data on revolutionary episodes since 1900, public opinion surveys, and engaging examples from around the world, Mark Beissinger explores the causes and consequences of the urbanization of revolution in the late twentieth and early twenty-first centuries. Beissinger examines the compact nature of urban revolutions, as well as their rampant information problems and heightened uncertainty. He investigates the struggle for control over public space, why revolutionary contention has grown more pacified over time, and how revolutions involving the rapid assembly of hundreds of thousands in central urban spaces lead to diverse, ad hoc coalitions that have difficulty producing substantive change. The Revolutionary City provides a new understanding of how revolutions happen and what they might look like in the future.

Watch the full video here.