Mapping Escalation Along Lebanon's Southern Border Since October 7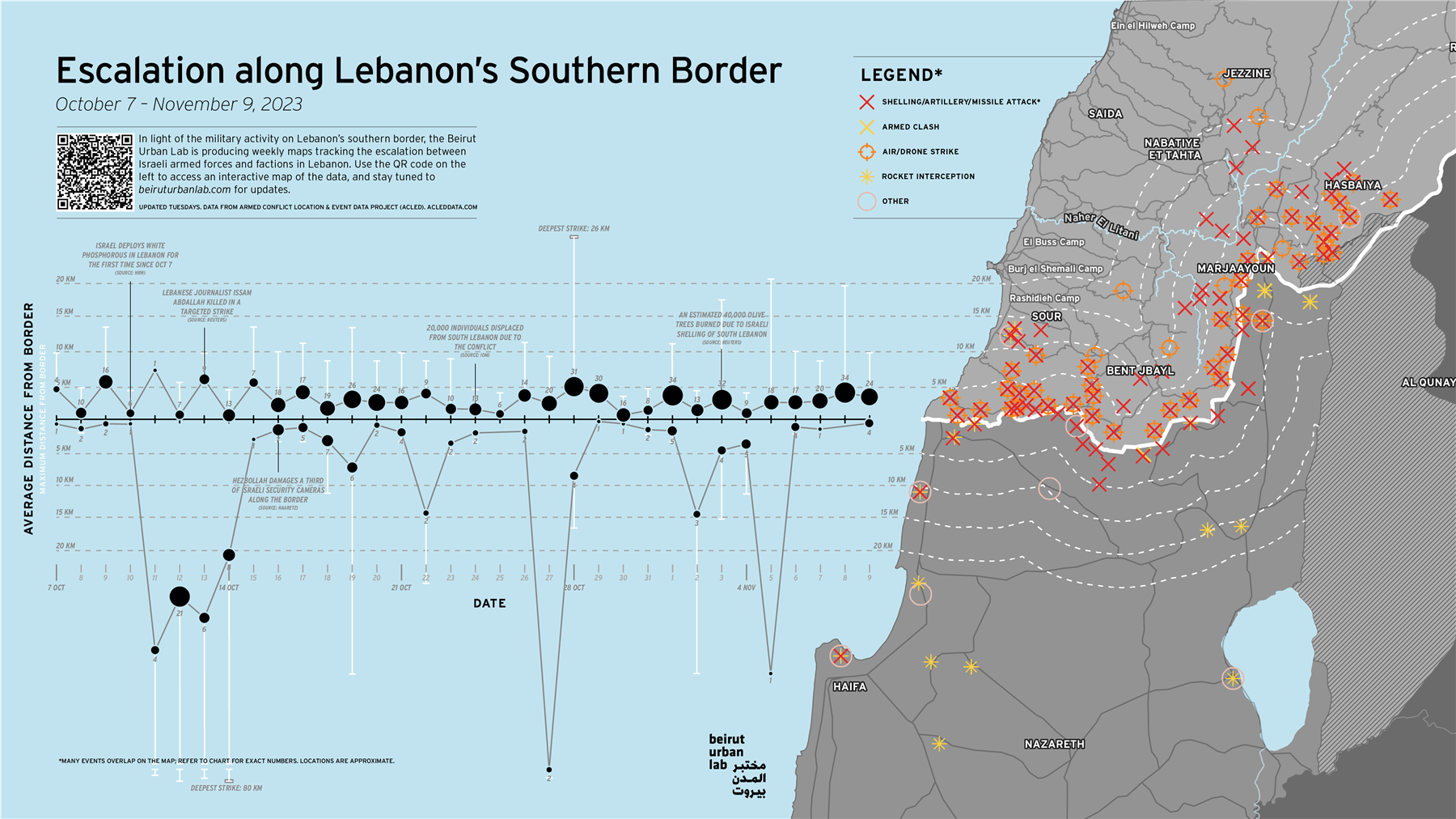 Since October 7, the Middle East has occupied center stage in global media attention. Already rife with uncertainty, subjected to episodic bouts of violence, and severely affected by an ongoing project of ethnic cleansing for 75 years in Historic Palestine, our region is again bearing the weight of global, regional, and local violence. As we witness genocide unfolding and forceful population transfers in Gaza, along with an intensification of settler attacks in the West Bank and Jerusalem and the silencing of Palestinians everywhere, the conflict is also taking critical regional dimensions.

As part of its effort to contribute to more just tomorrows through the production and dissemination of knowledge, the Beirut Urban Lab is producing a series of maps that document and provide analytical insights to the unfolding events. Our first intervention comes at a time in which bombs are raining on South Lebanon. Titled Escalation along Lebanon's Southern Border since October 7, the platform monitors military activity between the Israeli Armed Forces and Lebanese factions. Two indicators reflect the varying intensity of the conflict: the number of daily strikes and the average distance of strikes from the border.

The map uses data from the Armed Conflict Location and Event Data (ACLED) crisis mapping project, which draws upon local reporting to build its dataset. Since ACLED updates their dataset on Mondays, site visitors can expect updates to our mapping and analysis to be released on Tuesday afternoons. Please refer to ACLED's methodology for questions about data sources and collection.

As of November 14, the frequency and distribution of strikes reveals a clear asymmetry, with northward aggression far outweighing strikes by Lebanese factions. The dataset also indicates a clear escalation, with the number of incidents increasing day by day, particularly on the Lebanese side of the border.

We see this contribution as an extension of our previous experiences in mapping conflicts in Lebanon and the region, specifically the 2006 Israeli assault on Lebanon.